Using our three ETF models, Best(SPY-SH), Best1(Sector SPDR) and Best(SSO-TLT) equal weighted in a combination model, we demonstrate that the combo would have produced high annualized returns with low drawdowns and low volatility. Additionally, due to the very high liquidity of its component ETFs, the combo could support a huge portfolio size.
Performance
The simulated trading performance of the system is shown in Figure 1 below. The annualized return from January 2000 to end of December 2013 was 34.3%; $100 grew to $6,230 over this period. The maximum drawdown was -12.9% in October 2002. All values are with dividends reinvested.
The model assumes an initial investment on Jan-3,2000. It holds three ETFs, one from each component model. To December 31, 2013 there were 166 trades completed, 130 of these were winners and 16 losers, as listed in Table 3 in the Appendix. The percentage gains/losses shown in Table 3 include transaction costs of 0.1% of the trade amount arising from brokerage fees and slippage. The number of trades ranged from 4 to 19 per year, with the average being 12 trades per year.
Risk measures for Combo3 and for the component models are shown in Figure 7 in the Appendix. All risk measures for Combo3 are better than for the individual component models.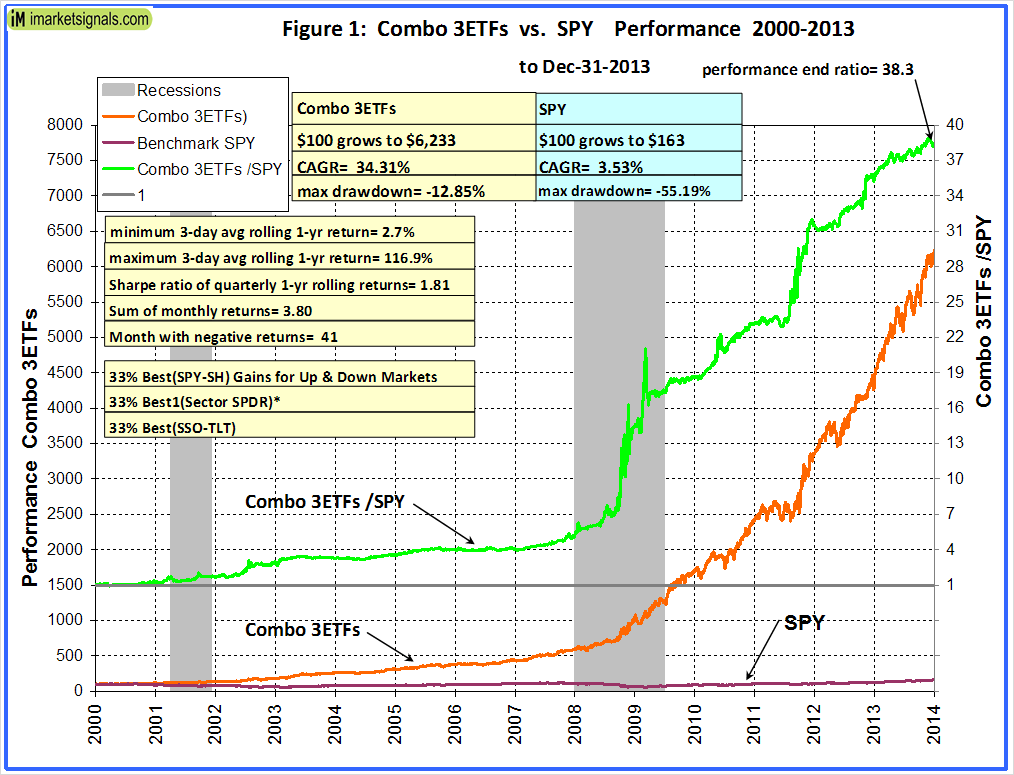 (click to enlarge)
In above chart, the upper green graph is the performance ratio of the Combo3 to SPY. A rising trend of that graph indicates when Combo outperformed SPY; it produced about 38 times the value which one would have had from a buy-and-hold investment in SPY over the same period. One can see from the ratio graph that Combo3 out-performed SPY every year.
Annual Returns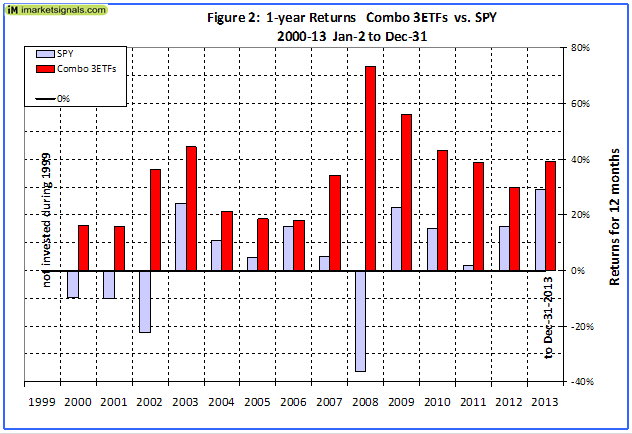 Annual performance from January to December ranged from a maximum of 73% for 2008 to a minimum of 16% for 2000 and 2001, as can be seen in Figure 2. There was never a loss over those periods.
Rolling 1-year returns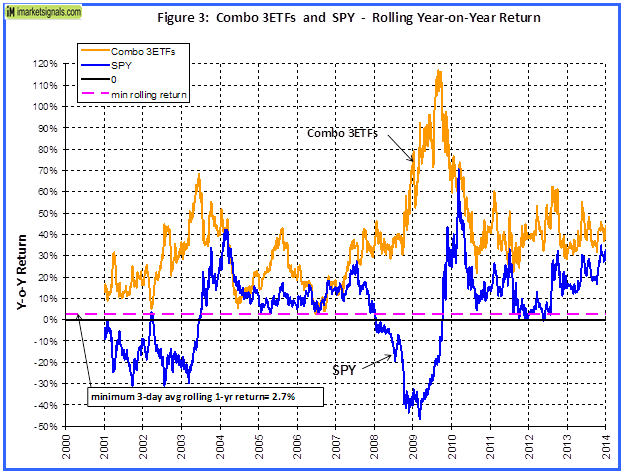 Figure 3 shows the rolling 1-year returns starting each trading day from 2000 to 2012. The minimum return over 12 months was 2.7% and the maximum was about 115%.
2-year Returns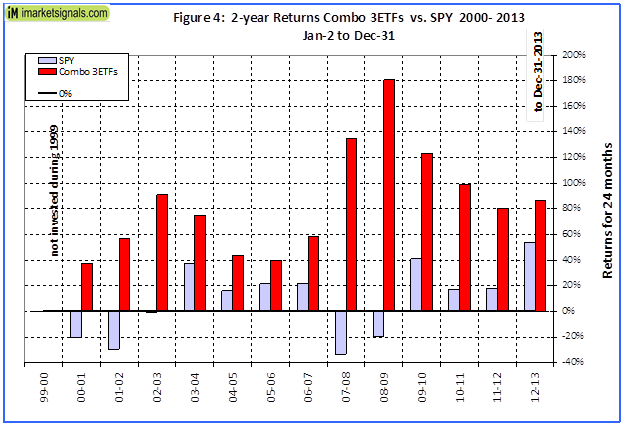 2-year performance from January to December ranged from a maximum of 180% for 2008-09 to a minimum of 38% for 2000-01, as can be seen in Figure 4.
Distribution of Monthly Returns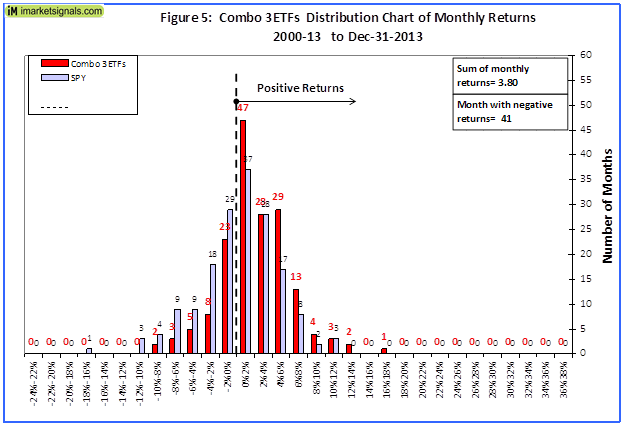 Figure 5 shows the distribution of monthly returns. There were a total of 168 months in the period under consideration. Combo3 produced positive returns during 127 months and only 41 months had negative returns, as is evident from the chart above. SPY had 73 months of negative returns.
Investment Periods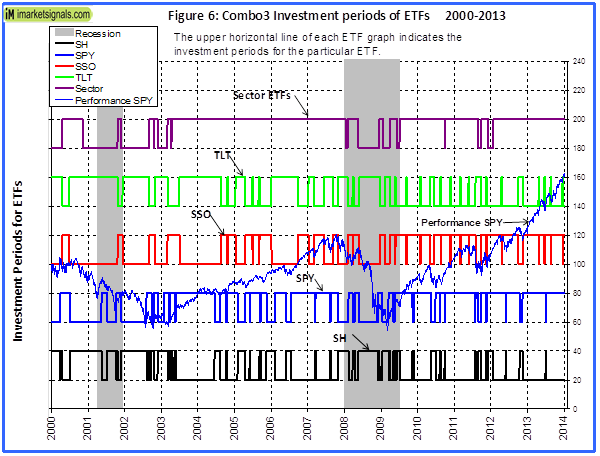 Figure 6 shows graphically the investment periods for the various ETFs in Combo3, which are listed in Table 3.
Terminal Values
To simulate savings over time, terminal values were calculated to the end of May 2013 for annual hypothetical investments of $1. Starting with a dollar during each of the 13 years from 2000 to 2012, one would have invested a total of $13 cumulatively by the end. Summing the 13 terminal values, this strategy would have netted this dollar-per-year investor $232 at the end of 13 years.
Following a buy-and-hold strategy in SPY, one would have only $22, about 9% of what Combo3 provided. Furthermore, the lowest annualized return, for any of the 14 time periods was 35% and the average for all the periods was 42%.
This is shown in Table 1 and 2 in the Appendix.
Correlation between component models

The correlation between the component models is fairly low, with 1.0 signifying 100% correlation.
Note: Based on the simulated past performance one could expect this combination model to continue to perform well. However, be aware that all performance results are hypothetical and the result of backtesting only. Out-of-sample performance may be much different. We can make no claims about future performance of this signal, which may include significant potential for losses.
Appendix
Risk Measurements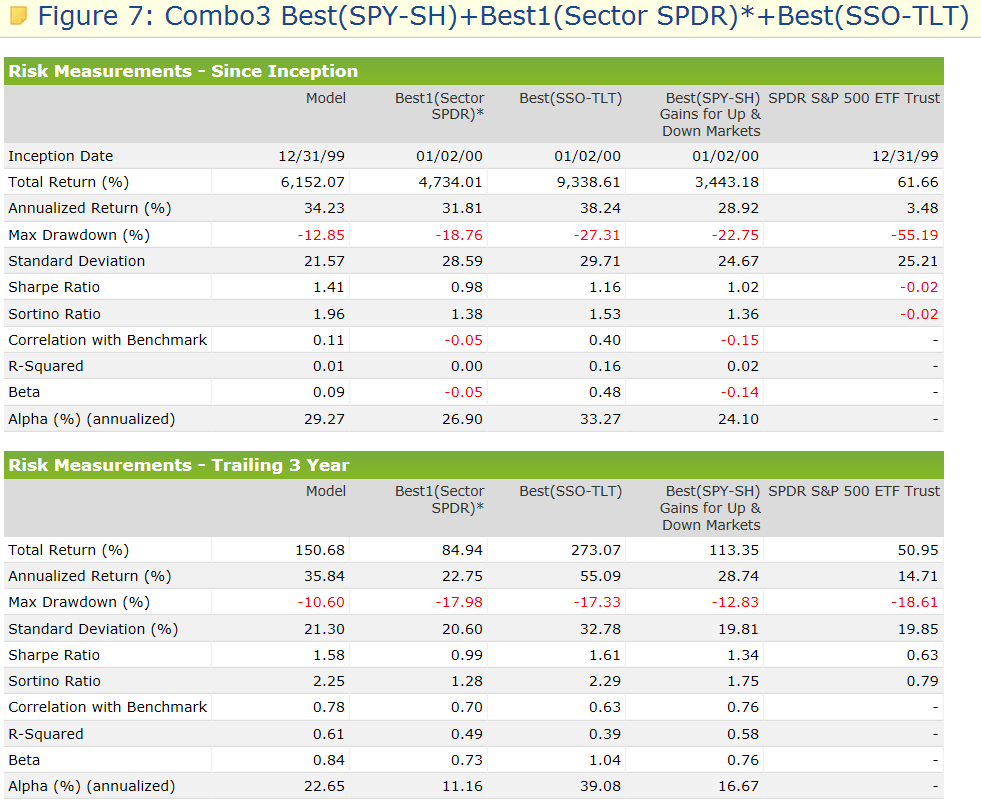 (click to enlarge)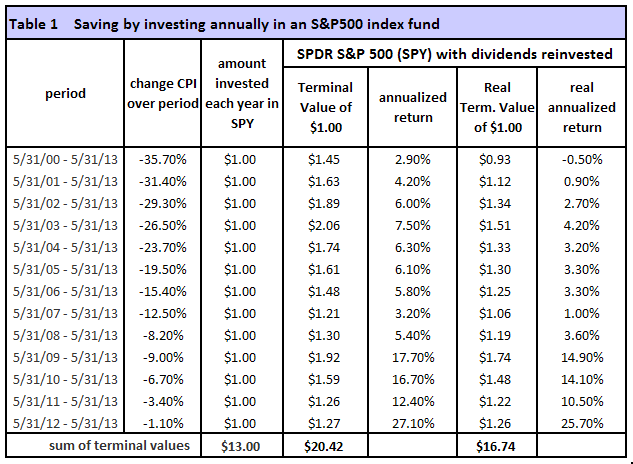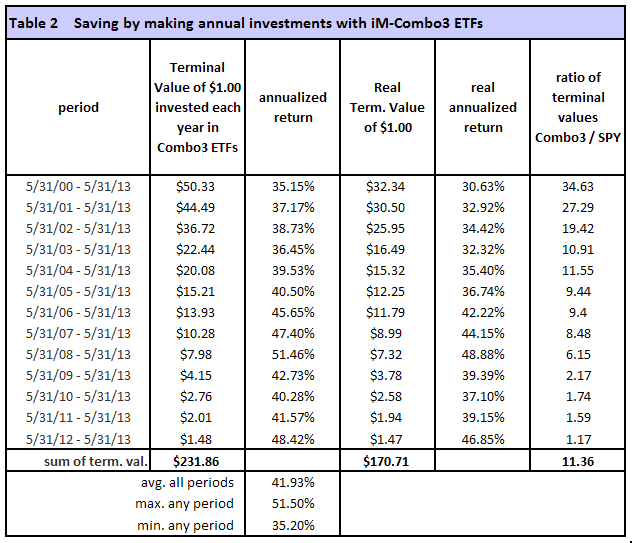 ---
---
iM-Best Systems
Quick Comparison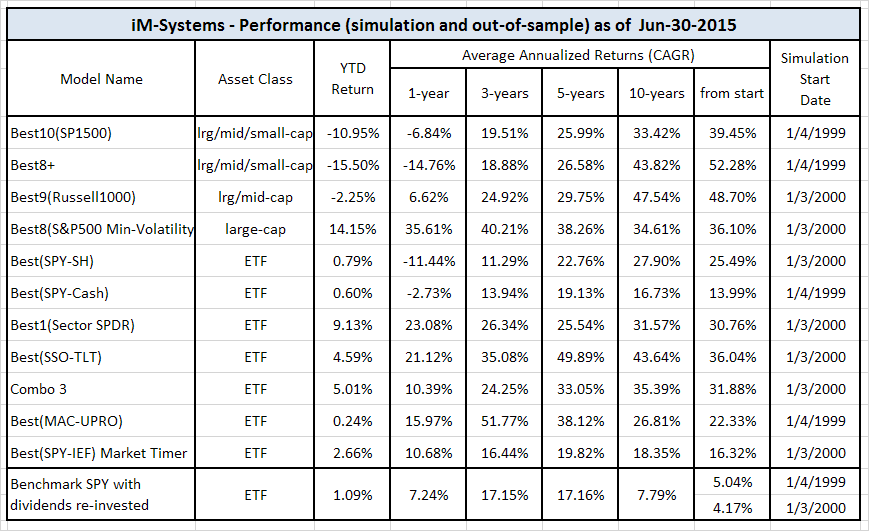 (click to enlarge)
---
Quick Links to Model Descriptions
R2G & iM(Silver) iM-Best10(S&P 1500): A Portfolio Management System for High Returns from the S&P 1500
R2G iM-Best9(Russell 1000) – Large-Cap Portfolio Management System
R2G iM-Best8+ Portfolio Management System
R2G iM-Best8(S&P500 Min-Volatility) Large-Cap Portfolio Management System With S&P 500 Minimum Volatility Stocks
iM(Gold) iM's Best12(USMV)-Trader Minimum Volatility Stocks
iM(Gold) iM's Best12(USMV)Q1..4-Investor Minimum Volatility Stocks (The Q3 model available to Silver)
iM(Silver) iM-Best10(VDIGX) Trading the Dividend Growth Stocks VDIGX
R2G & iM(Silver) iM-Best(SPY-SH) Market Timing System: Gains for Up and Down Markets
R2G & iM(Gold) iM-Best1(Sector SPDR) Rotation System
R2G & iM(Gold) iM-Best(SSO-TLT) Switching System
iM(Gold) iM-Best Combo3: Best(SPY-SH) + Best1(Sector SPDR) + Best(SSO-TLT)
iM-Best(SPY-Cash) Market Timing System
iM-Best(SSO-SDS): Beating the Market with Leveraged ETFs
Survivorship Bias: neither Myth nor Fact
---
---
Quick Links to Ready-2-Go Models
Best(SPY-SH) Gains for Up & Down Markets
When subscribing to P123 please use this link or enter token IMARKETSIGNALS when registering to obtain 30 days free membership.
---
Disclaimer: The opinions in this document are for informational and educational purposes only and are obtained from a mathematical algorithm and should not be construed as a recommendation to buy or sell the stocks mentioned. Past performance of the companies may not continue and the companies' stock values may decline. The information in this document is believed to be accurate and represents the output of a mathematical algorithm, and under no circumstances should a person act upon the information contained within. We do not recommend that anyone act upon any investment information without first consulting an investment advisor as to the suitability of such investments for his specific situation. Also see our Terms of Use/Disclaimer.