The holdings and signals will emailed to all members (Bronze or higher) every Sunday.
To view latest asset allocation tables requires membership category: Bronze or higher.
Please refer to the homepage for asset allocations.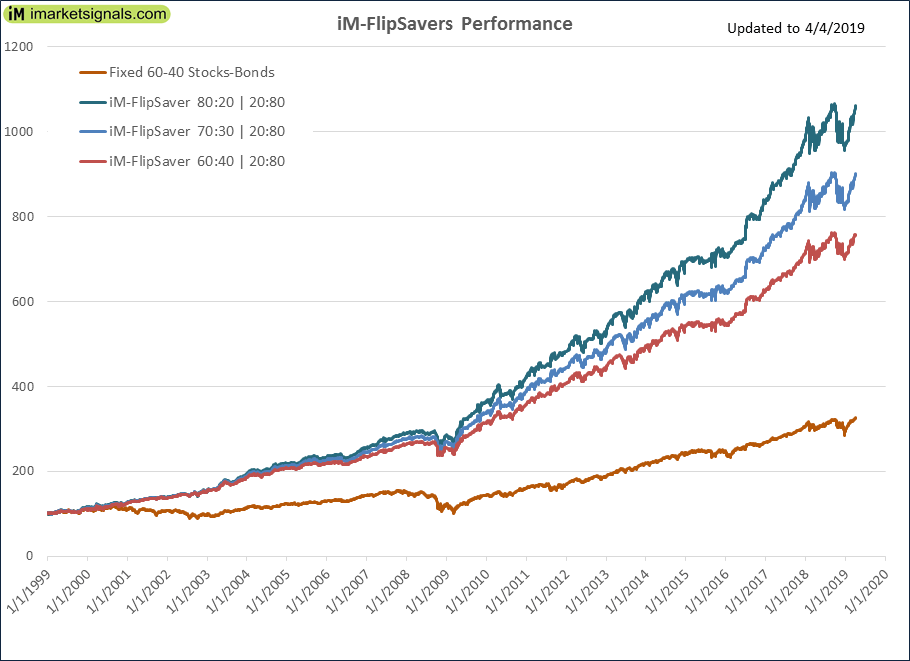 (click to enlarge)
For the period 1999 to 2018 the maximum drawdowns of all three models were around 12.75% compared to 34.7% of the fixed 60:40 stock bond allocation.  The "iM-FlipSaver 60:40 | 20:80"  has the lowest performance of the three, but this model is the safest as it protects for large drawdowns of "black swan events" in up markets, like the Oct 1987 event. The backtest period 1999 to 2018 was spared of such a "black swan event".
It is up to the individual investor to choose between the lower risk, medium risk or higher risk saving. Generally younger investors could begin with the higher risk "iM-FlipSaver 80:20 | 20:80" and with  age  transition to the "iM-FlipSaver 60:40 | 20:80".