The system uses a composite model consisting of several market timers. It should deliver more reliable signals for profitable stock market investment than single market timing models.
Component timers are allocated a 100% stock holding percentage when the timer signals investment in the stock market, or 0% when the timer it is out of the stock market.
A weekly Stock Market Confidence Level (SMC level), which can range from 0% to 100%, is obtained by considering the percentage allocated to each component timer and the timer's weight in the system.
The optimal SMC level for stock market investment is found by optimizing a stock-bond model for various SMC levels considering returns and drawdowns relative to buy-and-hold the S&P 500 index.
A backtest of a combination model of thirteen iMarketSignals timers signaled avoidance of the stock market for SMC levels <=50%, while SMC levels >50% suggest better stock market investment climates.
The Component Market Timing Models
The component market timing models used are shown in Table-1. The table, updated every Sunday at iMarketSignals.com, shows which of the models are invested in stocks or not. Those invested in stocks have a stock holding percentage of 100%, and those out of the stock market of 0%. Combination models are given a holding percentage proportional to their current stock market investments.
An Importance Factor related to the performance of a model is also assigned. The iM-Stock Market Confidence Level (iM-SMC level) is calculated from the stock holding percentages and importance Factors of the 13 models, rounded to the lowest number which is divisible by 5.
The iM-SMC Level and Stock Market Exposure
In Figure-1 below the black graph shows a 4-week moving average of the iM-SMC level over the last 19 years, from Jan-2000 to Dec-2018. The red graph depicts performance of the SPDR S&P 500 ETF Trust (SPY). From inspection of Figure-1 it is evident that during down-market periods the iM-SMC level was lower than during up-market periods, reaching 0% in years 2001 and 1998.
The highest optimized return was obtained for a model that holds the stock ETF (SPY) for periods when the iM-SMC level was higher than 50% and invested in the Treasury Bond ETF (IEF) during periods when the iM-SMC level was equal to or less than 50%, the stock market exposure (100% or 0%) being shown by the green graph.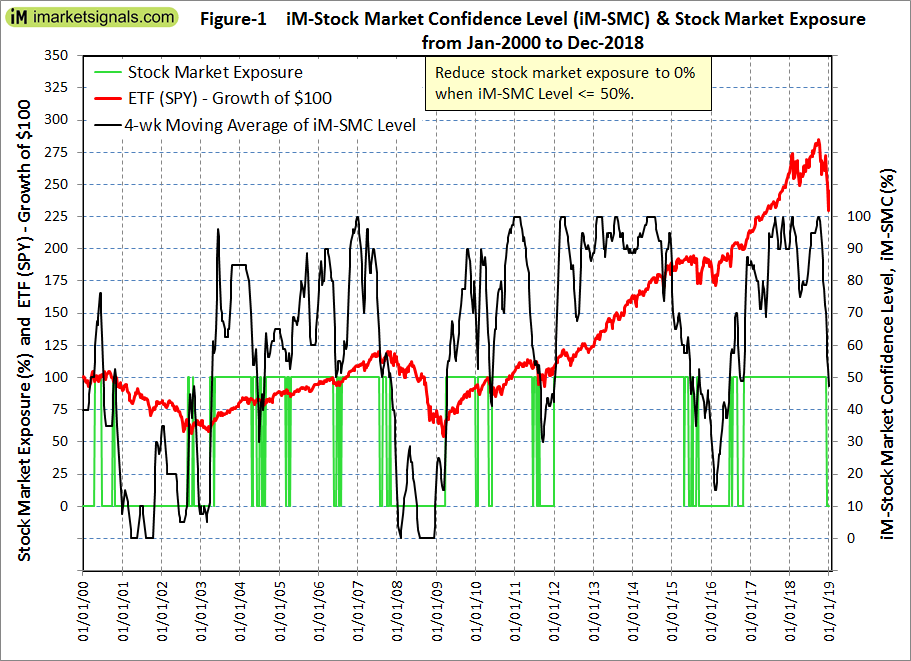 (click to enlarge)
Performance of the iM-SuperTimer
The performance of a SPY-IEF switching strategy which reduces stock market exposure to 0% and switches to bond ETF (IEF) when iM-SMC <=50% is shown in Figure-2.  This was modelled in excel and performance includes trading costs of 0.05% of each trade amount.
For the period 1/3/2000 to 1/22/2019 the SPY-IEF model would have produced an annualized return of 18.7% with a max drawdown of about -10%, while the SPY-Cash model would have provided a 14.0% return with the same drawdown. A buy-and-hold strategy of ETF (SPY) had an annualized return of only 5.2% with a maximum drawdown of -55% over the same period.
Since the iM-SMC level is available on Sundays, trading is assumed to occur thereafter on the first trading day of the week, usually a Monday. Trading should not be delayed for more than two days as the model's annualized return diminishes then.
Trading Day         Annualized Return
1st                             18.72%
2nd                           17.71%
3rd                           17.16%
4th                             14.98%
5th                            14.76%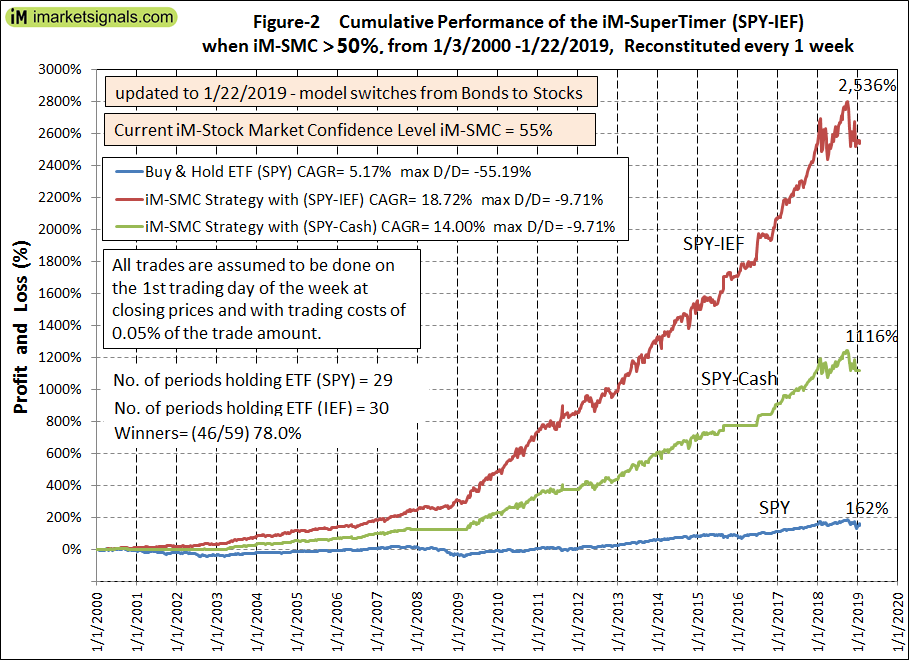 (click to enlarge)
Table-2 lists returns and risk measurement for SPY-IEF models with iM-SMC level criteria ranging from 45% to 60%. All models show annualized returns higher than 16.0%, with the iM-SMC level<=50% producing the best performance.


(click to enlarge)
Trading Frequency
The backtest shows only 59 switch trades. The number of switch trades per calendar year is listed in Table-3 which shows a maximum of eight trades occurring in year 2004.


Holding History can be downloaded here: Super Timer Holding Periods (updated to October 2020)
Conclusion
The backtests suggest that the iM-SuperTimer based on the Stock Market Confidence Level Strategy could provide useful trading signals for stock market investors. Allocation changes are infrequent, with the average holding period of ETF (SPY) and (IEF) being about 22 weeks and 12 weeks, respectively. However, since this model provides weekly signals holding periods can be as short as one week.
At iMarketSignals we have provided weekly updates of the iM-Stock Market Confidence Level for longer than one year now. Also weekly updates of the iM-SuperTimer will be available to Gold members.
Disclaimer
The performance data shown represent past performance, which is not a guarantee of future results. Investment returns and portfolio value will fluctuate, and future signals from this model may not be as efficient as they were in the past.
Appendix
The performance of the iM-SuperTimer (SPY-IEF) can also be modelled on the on-line simulation platform Portfolio 123 using the trading dates from the excel model, and is shown in Figure-3 below. Performance statistics are almost identical to those calculated in excel (Figure-2).
Table-4, extracted from the Portfolio 123 website, shows performance by calendar year and distribution of the monthly returns for the model and benchmark ETF (SPY).  The model had no losses for any of the 19 calendar years and only a small under performance for 2012 relative to the benchmark.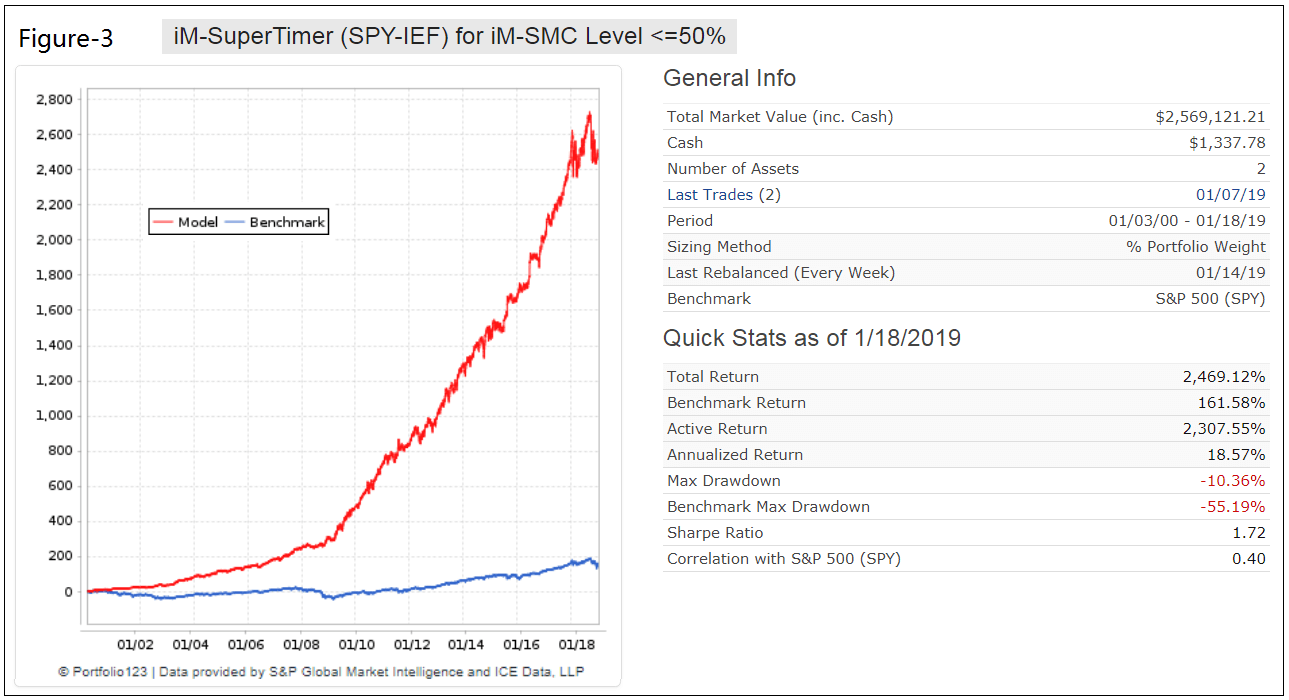 (click to enlarge)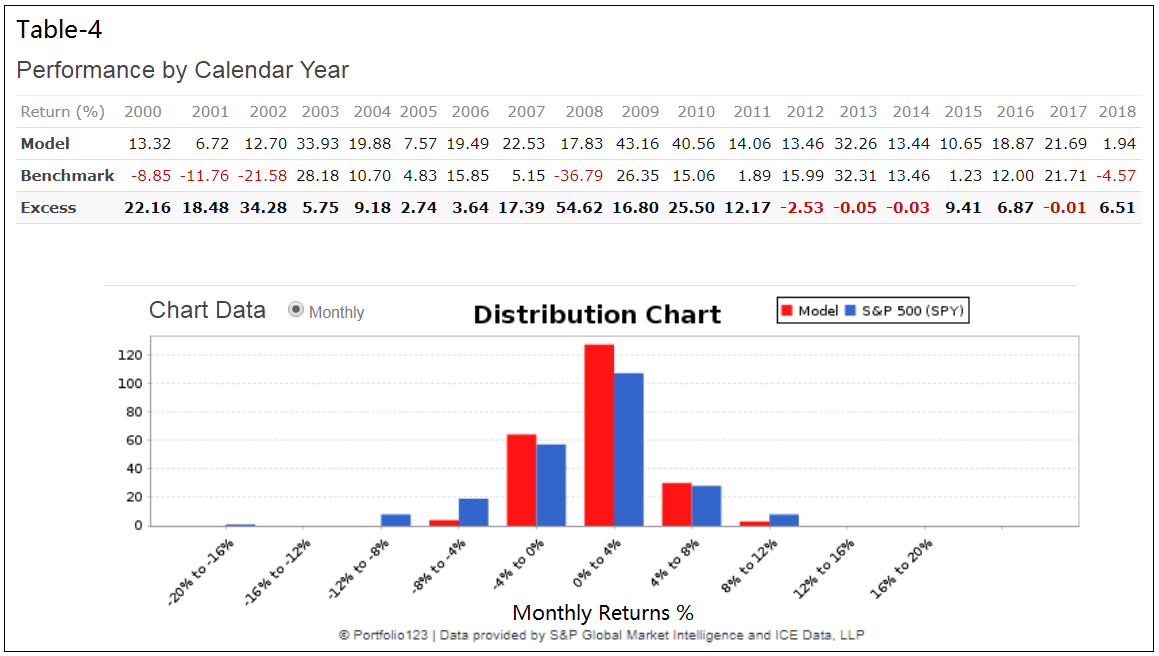 (click to enlarge)