Reliance on a single market timer could be risky. The risk can be reduced with a composite timer whose component timers use different, uncorrelated, financial and economic data.
From 2001 to 2016 switching between bonds and stocks using a composite timer would have produced an average annual return of 19.7% versus only 5.2% for buy & hold stocks.
For the period 2001-2016  the buy&hold strategy no longer worked! It is likely that it will also not work in the future due to increasing stock market volatility. For this reason some investor use simple market timing, mostly momentum driven, to exit and enter the markets according to market direction. Relying on one market timer only, such as a moving average cross over, is risky. Instead  many uncorrelated market timing strategies can be combined into a robust composite market timing model.  We introduced six such component timers using the following:
Unemployment Rate (UNEMP) (detailed description),
Performance of the Hi-Beta and Lo-Beta stocks of the S&P 500, (detailed description)
TED Spread,
Market Climate Score,
iM Standard Timer,
CBOE Volatility Index VIX.
Composite Market Timer
The iM Composite Market Timer combines six timers based on the above indicators. Each component timer references a different causal set. The correlation of the models' simulated performances is low. This provides for greater tolerance and robustness in case of some temporary data distortion of a component timer. 
The component models are weighted:  models 1. and 2. above each contribute 25, and the other four (3. thru 6.) 12.5 each, totaling 100 for the six models when all of them were to simultaneously signal investment in the stock market. No special curve-fitting or optimization routines where used.
An entry signal for the stock market arise when the combined weight of the six models is equal to, or greater than 50. Therefore, the minimum requirement for investment in stocks is when:
 both 1. and 2. are invested,
 either 1. or 2. is invested plus at least two of the four (3. thru 6.) are invested,
 or, when all of the four (3. thru 6.) are invested and  both 1. and 2. are not invested.
Performance of the Composite Market Timer
The model was backtested using the on-line portfolio simulation platform Portfolio 123, which also provides extended price data for ETFs prior to their inception dates calculated from their proxies.
The simulated performance using this indicator and switching between SPDR S&P 500 ETF (SPY), the ETF tracking the S&P 500, and the iShares 7-10 Year Treasury Bond (IEF) is shown in the figure below.  The red graph represents the performance of the model from Feb-2001 to Aug-2016.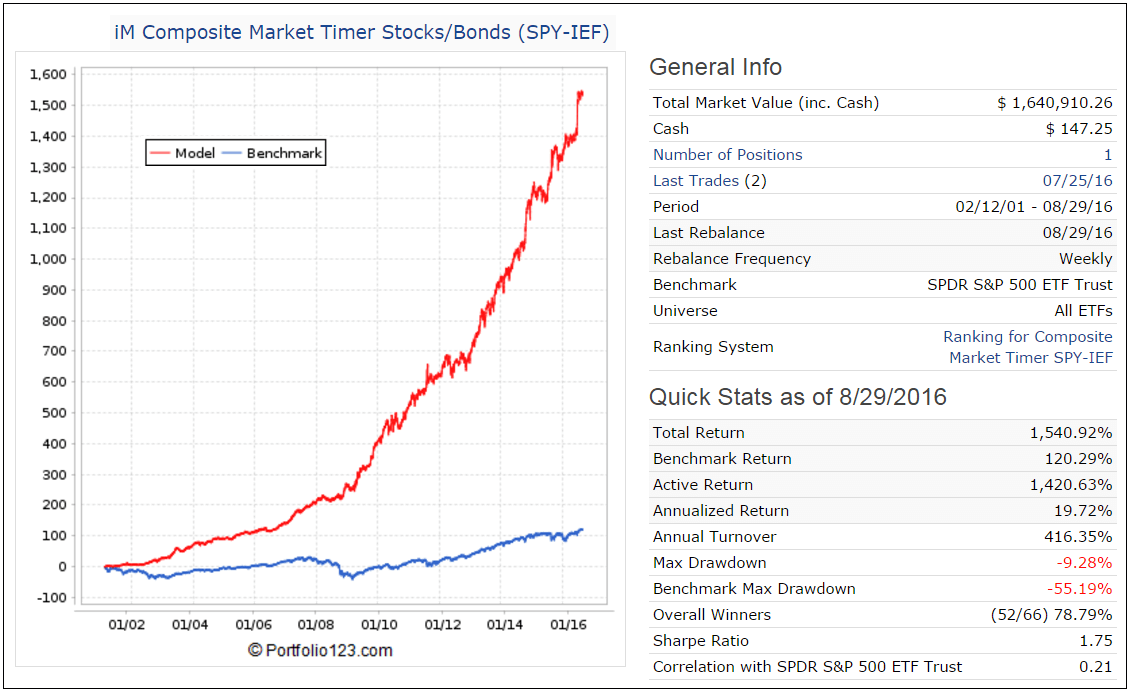 (click to enlarge)
The simulation shows an annualized return of 19.7% with a maximum drawdown of -9.3%, and an average 4-times annual turnover. Trading costs and slippage were not included. Performance of this model is not significantly affected by the choice of bond fund. See the Appendix for performance when using Inflation-Protected Bond – Schwab US TIPS ETF (SCHP).
The relative smoothness of the performance graph indicates that the six component models are indeed much diversified.  Table-1 below compares the Composite Timer and the component timers. It clearly shows the improvements gained by adopting composite market timing.
Table 1: Performance from February 2001 to August 2016.
 
CMPST
Timer
UNEMP
Timer
Hi-Lo Beta
Timer
TED Spread
Timer
MC-Score
Timer
iM Std
Timer
VIX
Timer
Total Return:
1,541%
729%
524%
311%
393%
474%
165%
Benchmark Return:
120%
120%
120%
120%
120%
120%
120%
Active Return:
1,421%
608%
404%
191%
272%
354%
45%
Annualized Return:
19.7%
14.6%
12.5%
9.5%
10.8%
11.9%
6.5%
Annual Turnover:
416%
206%
269%
146%
234%
338%
482%
Max Drawdown:
-9.3%
-19%
-16%
-37%
-14%
-27%
-23%
SPY Max Drawdown:
-55%
-55%
-55%
-55%
-55%
-55%
-55%
Overall Winners:
(52/66)
79%
(28/34)
82%
(29/44)
66%
(18/24)
75%
(29/38)
76%
(40/55)
73%
(46/77)
60%
Sharpe Ratio:
1.75
1.13
1.12
0.77
1.11
0.99
0.56
Correlation With SPY:
0.21
0.46
0.33
0.56
0.11
0.33
0.09
Conclusion
From the analysis it appears that the iM Composite Market Timer can profitably be used to switch between stocks and bonds. iMarketSignals will report weekly the status of this timer.
Rising interest rates with concurrent diminishing returns from bonds may reduce the effectiveness of this model. Although this model performed well over the last 15 years, there is no evidence that it would have produced similar returns before the backtest period, nor is there a guarantee that it will perform well in the future. 
Appendix
Trading Statistics
Over the backtest period (Feb-2001 to Aug-2016) there were only 65 completed trades, 51 winners, and 14 losers. The maximum loss for any position was -4.8%. The average holding period of a position was about 3 months.

(click to enlarge)
Risk Measurements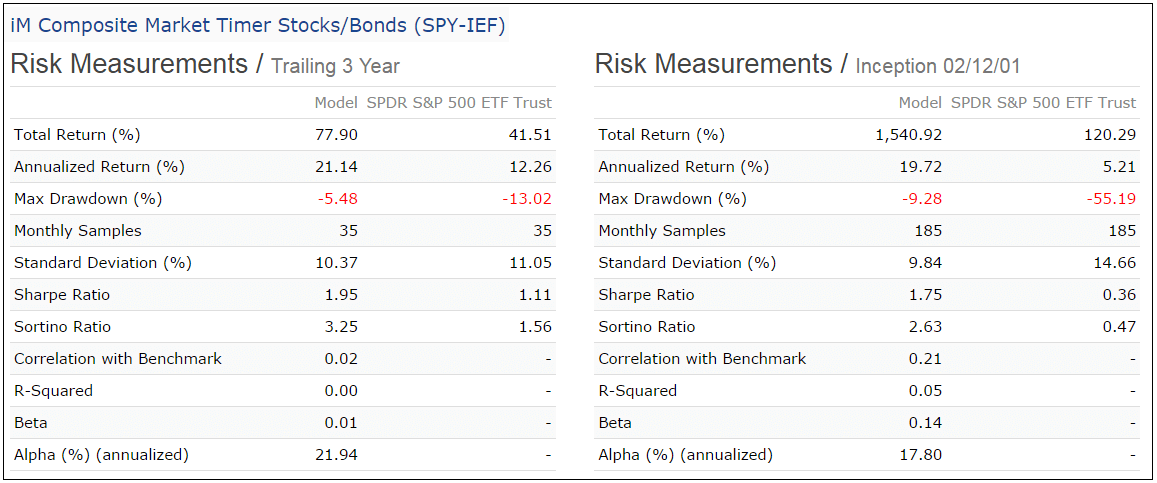 (click to enlarge)
Rolling Returns
There were no negative returns over any 1-year period as shown in the histogram below. The lowest return was 3% and the highest 63%.

(click to enlarge)
Performance with Alternative Bond Fund
Performance with Inflation-Protected Bond – Schwab US TIPS ETF (SCHP)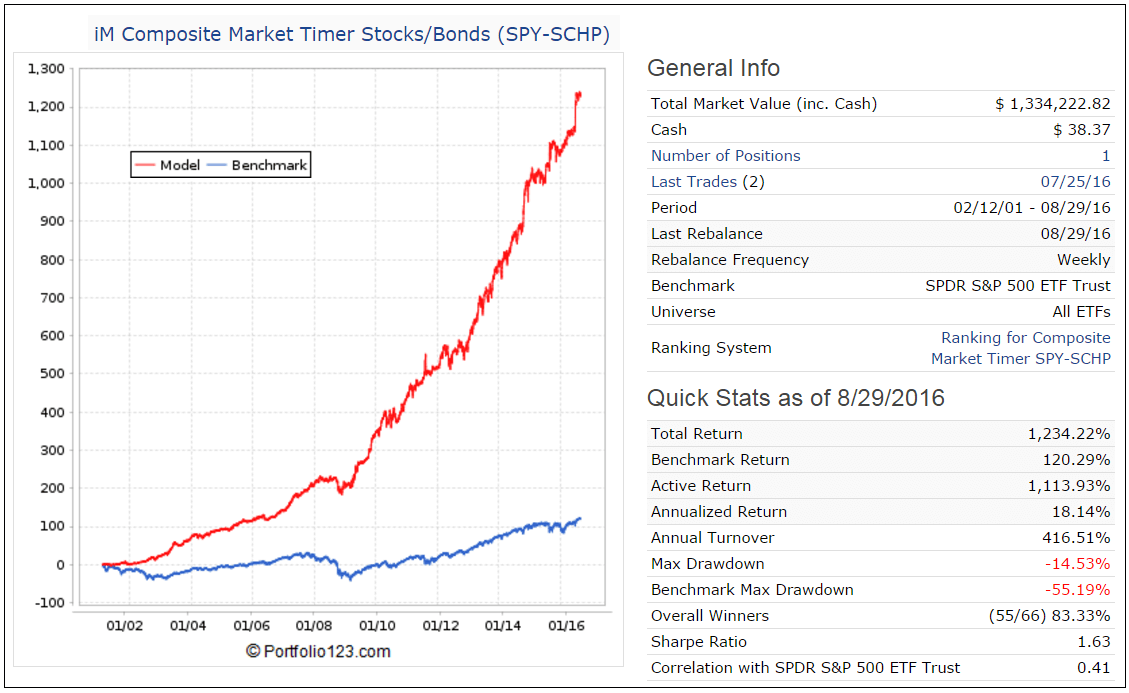 (click to enlarge)
Realized Trades
This table has been updated to 9/30/2016. There were 66 realized trades from Feb-2001 to Sep-2016.
| | | | | |
| --- | --- | --- | --- | --- |
| Symbol | Open | Close | Days | Gain |
| IEF | 9/6/2016 | | | |
| SPY | 8/1/2016 | 9/6/2016 | 36 | 0.76% |
| IEF | 7/18/2016 | 8/1/2016 | 14 | 0.36% |
| SPY | 6/27/2016 | 7/18/2016 | 21 | 8.42% |
| IEF | 11/30/2015 | 6/27/2016 | 210 | 6.34% |
| SPY | 11/9/2015 | 11/30/2015 | 21 | 0.29% |
| IEF | 9/8/2015 | 11/9/2015 | 62 | -1.23% |
| SPY | 8/24/2015 | 9/8/2015 | 15 | 4.18% |
| IEF | 7/20/2015 | 8/24/2015 | 35 | 2.84% |
| SPY | 7/6/2015 | 7/20/2015 | 14 | 2.84% |
| IEF | 6/8/2015 | 7/6/2015 | 28 | 0.83% |
| SPY | 5/4/2015 | 6/8/2015 | 35 | -1.35% |
| IEF | 12/22/2014 | 5/4/2015 | 133 | 0.30% |
| SPY | 10/13/2014 | 12/22/2014 | 70 | 10.67% |
| IEF | 9/29/2014 | 10/13/2014 | 14 | 2.10% |
| SPY | 4/15/2013 | 9/29/2014 | 532 | 26.82% |
| IEF | 4/1/2013 | 4/15/2013 | 14 | 1.13% |
| SPY | 8/27/2012 | 4/1/2013 | 217 | 10.21% |
| IEF | 7/2/2012 | 8/27/2012 | 56 | -0.14% |
| SPY | 1/30/2012 | 7/2/2012 | 154 | 3.89% |
| IEF | 8/22/2011 | 1/30/2012 | 161 | 2.09% |
| SPY | 8/8/2011 | 8/22/2011 | 14 | 0.42% |
| IEF | 5/16/2011 | 8/8/2011 | 84 | 6.15% |
| SPY | 9/13/2010 | 5/16/2011 | 245 | 17.93% |
| IEF | 8/30/2010 | 9/13/2010 | 14 | -1.60% |
| SPY | 6/7/2010 | 8/30/2010 | 84 | -0.22% |
| IEF | 5/17/2010 | 6/7/2010 | 21 | 2.42% |
| SPY | 1/25/2010 | 5/17/2010 | 112 | 3.79% |
| IEF | 12/28/2009 | 1/25/2010 | 28 | 1.81% |
| SPY | 11/30/2009 | 12/28/2009 | 28 | 2.53% |
| IEF | 11/16/2009 | 11/30/2009 | 14 | 1.41% |
| SPY | 11/2/2009 | 11/16/2009 | 14 | 6.60% |
| IEF | 10/19/2009 | 11/2/2009 | 14 | -1.03% |
| SPY | 10/5/2009 | 10/19/2009 | 14 | 5.55% |
| IEF | 6/1/2009 | 10/5/2009 | 126 | 3.41% |
| SPY | 3/23/2009 | 6/1/2009 | 70 | 15.26% |
| IEF | 7/2/2007 | 3/23/2009 | 630 | 18.55% |
| SPY | 3/5/2007 | 7/2/2007 | 119 | 10.47% |
| IEF | 2/5/2007 | 3/5/2007 | 28 | 2.08% |
| SPY | 10/2/2006 | 2/5/2007 | 126 | 8.83% |
| IEF | 5/22/2006 | 10/2/2006 | 133 | 2.78% |
| SPY | 2/13/2006 | 5/22/2006 | 98 | -0.23% |
| IEF | 1/30/2006 | 2/13/2006 | 14 | -0.70% |
| SPY | 1/3/2006 | 1/30/2006 | 27 | 1.37% |
| IEF | 9/19/2005 | 1/3/2006 | 106 | -1.21% |
| SPY | 8/29/2005 | 9/19/2005 | 21 | 1.15% |
| IEF | 7/25/2005 | 8/29/2005 | 35 | 0.32% |
| SPY | 4/18/2005 | 7/25/2005 | 98 | 7.59% |
| IEF | 8/23/2004 | 4/18/2005 | 238 | 0.05% |
| SPY | 8/9/2004 | 8/23/2004 | 14 | 2.99% |
| IEF | 7/19/2004 | 8/9/2004 | 21 | 0.65% |
| SPY | 7/6/2004 | 7/19/2004 | 13 | -1.47% |
| IEF | 6/7/2004 | 7/6/2004 | 29 | 1.98% |
| SPY | 5/3/2004 | 6/7/2004 | 35 | 2.28% |
| IEF | 4/5/2004 | 5/3/2004 | 28 | -2.18% |
| SPY | 9/29/2003 | 4/5/2004 | 189 | 14.14% |
| IEF | 6/16/2003 | 9/29/2003 | 105 | -4.83% |
| SPY | 5/19/2003 | 6/16/2003 | 28 | 9.72% |
| IEF | 5/5/2003 | 5/19/2003 | 14 | 3.08% |
| SPY | 3/31/2003 | 5/5/2003 | 35 | 9.78% |
| IEF | 12/2/2002 | 3/31/2003 | 119 | 3.51% |
| SPY | 11/18/2002 | 12/2/2002 | 14 | 4.03% |
| IEF | 11/4/2002 | 11/18/2002 | 14 | 0.23% |
| SPY | 10/21/2002 | 11/4/2002 | 14 | 1.06% |
| IEF | 9/16/2002 | 10/21/2002 | 35 | -1.89% |
| SPY | 9/3/2002 | 9/16/2002 | 13 | 1.82% |
| IEF | 2/13/2001 | 9/3/2002 | 567 | 17.58% |