Stock market timing models usually provide discreet signals indicating whether to be in or out of the market.
A better approach with potentially less risk is to stage investments over time when entering or exiting the market.
Three market timing models with low correlation to each other are used in combination to provide staged signals, indicating stock market investment in 25% increments from 0% to 100%.
The Market Timing Models
The three timing models switch between SPY (the ETF tracking the S&P 500 index) and IEF (the ETF tracking intermediate-term U.S. Treasury bonds) and were derived from previously developed ETF trading systems modified to seek investment in SPY during up-market periods and otherwise in IEF. These models have all been published having out-of-sample (OOS) periods as indicated.
SPY-IEF 50/220 MAC: A moving average cross-over system which uses the spread between the 50 and 220 trading day moving averages of SPY. This is similar to the 50/200 Golden Cross System for the S&P500 index and to our MAC-US model, with a weight of 25%. (OOS from Jul-2012)
SPY-IEF with Best(SSO-TLT) algorithm, with a weight of 50%. (OOS from Jan-2014)
SPY-IEF with Best(SPY-SH) algorithm, with a weight of 25%. (OOS from Sep-2013)
Component model Nr.1 is a straight forward moving average crossover system. The algorithms for component models Nrs.2 and 3 are based on subscription models at a web-based simulation platform developed by the author.
The combination model provided allocation signals for SPY and IEF as shown in Table 1. On average there were 9 different allocations per year, requiring adjustments to investment mix.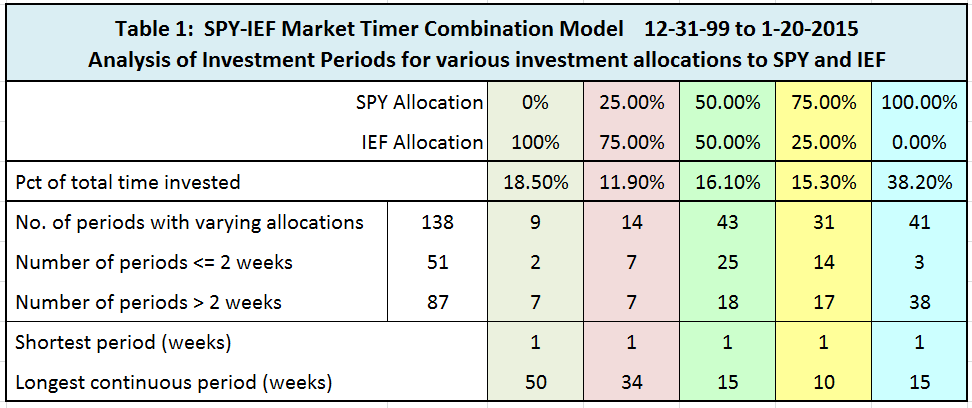 Performance of SPY-IEF Market Timer Combo
In the figures below the red graph represents the model and the blue graph shows the performance of benchmark SPY.
Performance is shown in Figure 1. The backtest period was more than 15 years, from January 2000 to February 2015. Dividends are accounted for in the backtest. The annualized return (CAGR) would have been 16.9% with a maximum drawdown during the backtest period of -10.7% as shown in Figure 1 below.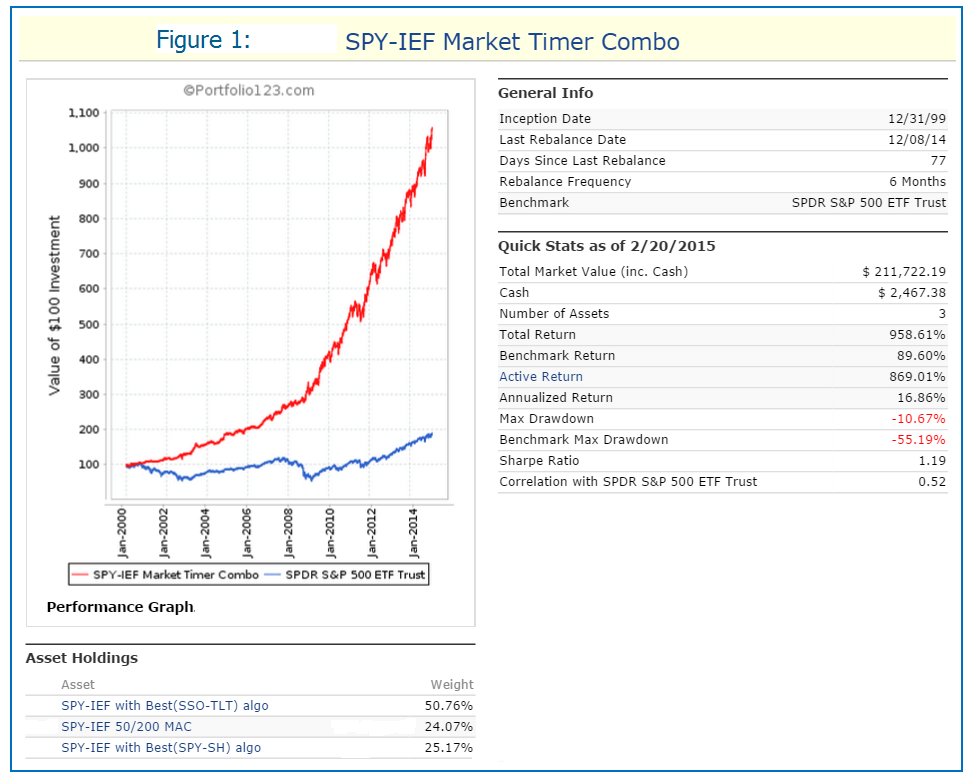 (click to enlarge)
Figures 2 to 5 show performance details:
Figure 2: Performance 2000-2014 versus SPY. Over the 15-year period $100 invested at inception would have grown to $1,003. The green bar graph depicts the percentage allocation to SPY (short periods are not visible). Allocation on 2/26/2015 is 100% to SPY, and the prior historic allocations can be downloaded here as an Excel file.
Figure 3: 1-year returns. There was never a negative return over one calendar year.
Figure 4: 1-year rolling returns. The minimum 1-year rolling return of the 3-day moving average was 0.7% in 2004, indicating that there was never a negative return over any 12 months period.
Figure 5: Distribution of monthly returns. One can see that the monthly returns follow a normal distribution, with only 54 months showing a negative return.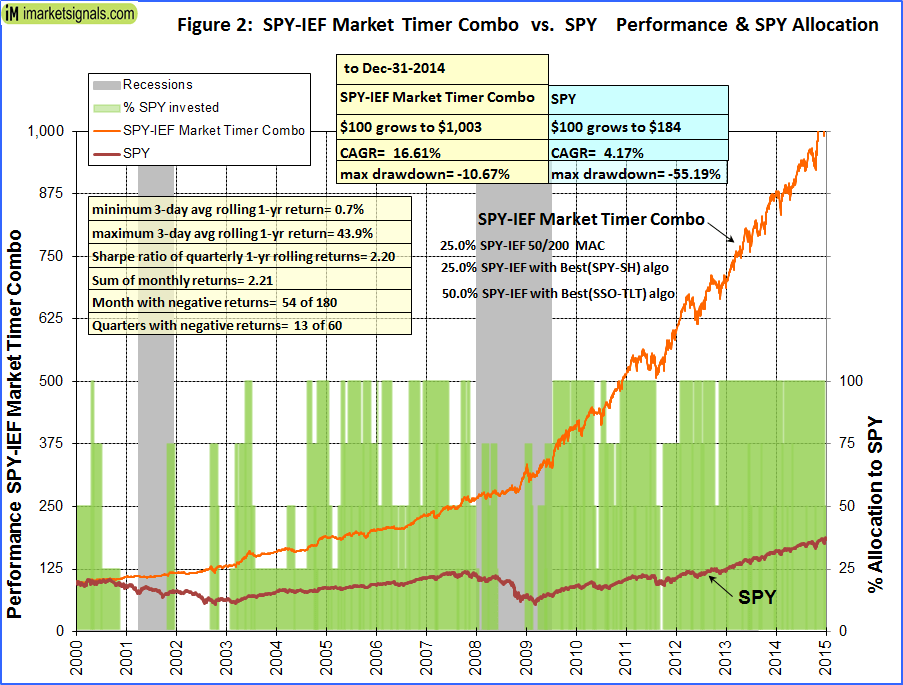 (click to enlarge)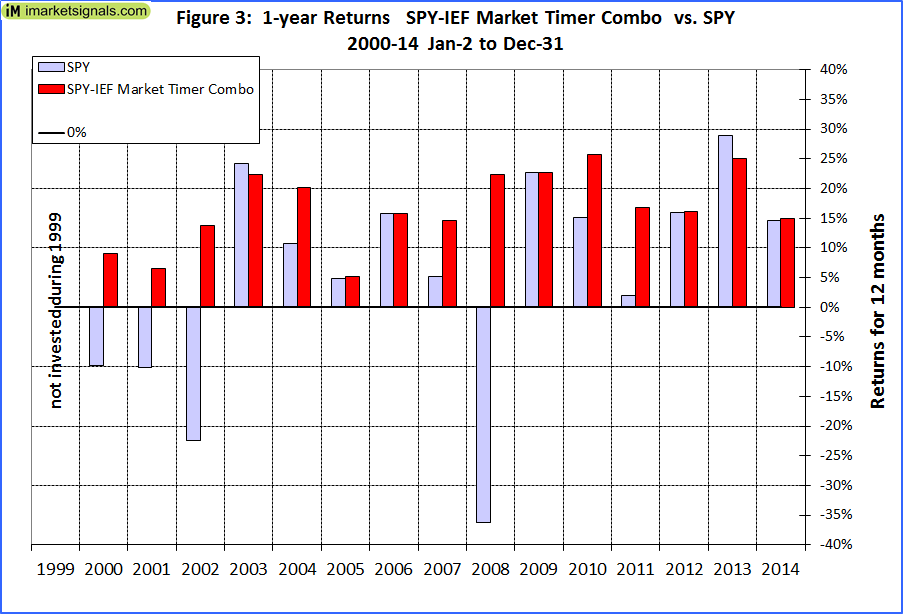 (click to enlarge)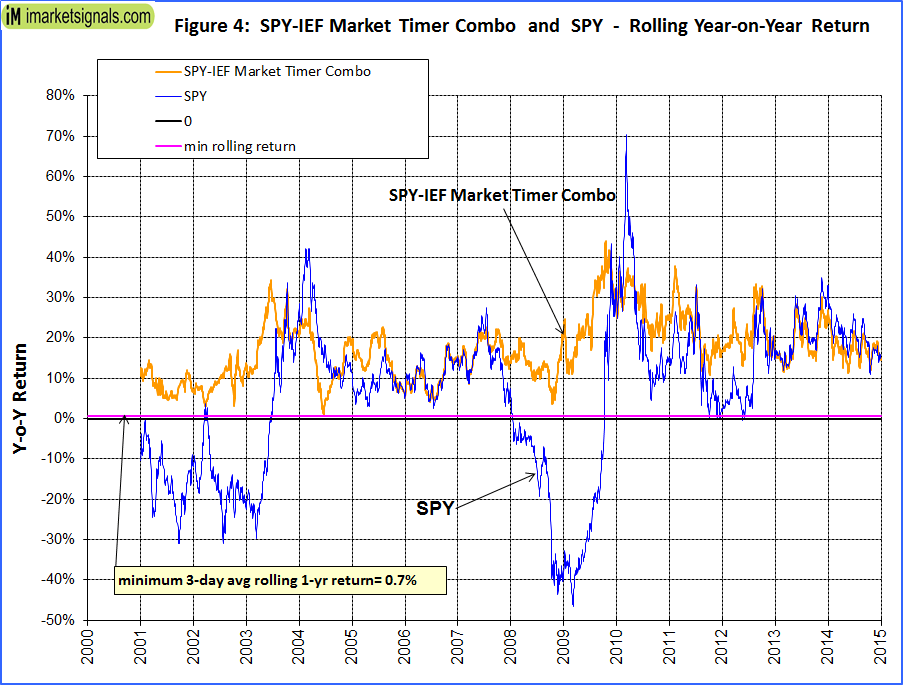 (click to enlarge)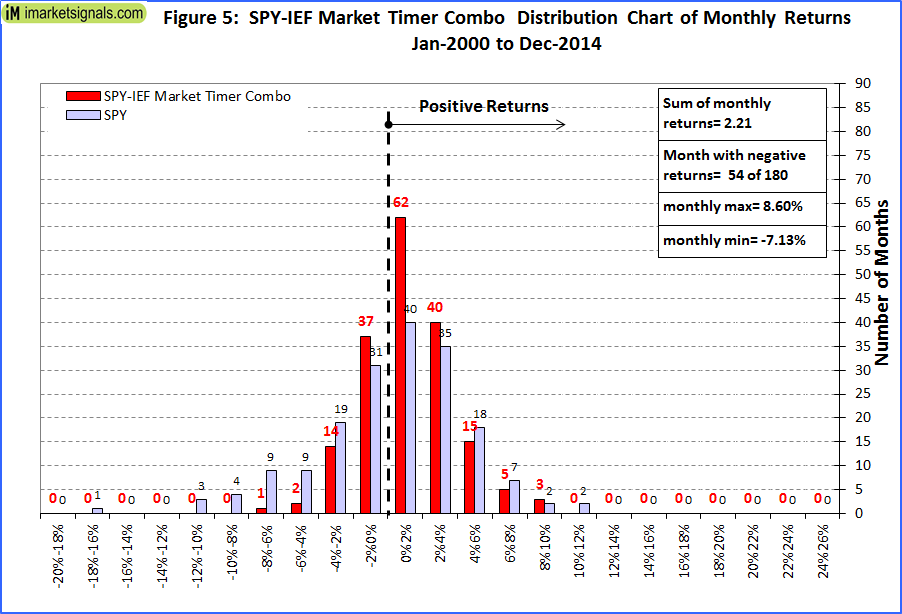 (click to enlarge)
Following the Model
This model is updated weekly and allocation percentages to SPY will be posted on our website.
Appendix
Performance over the last 10 years and 5 years is shown in Figure 6 and 7, respectively.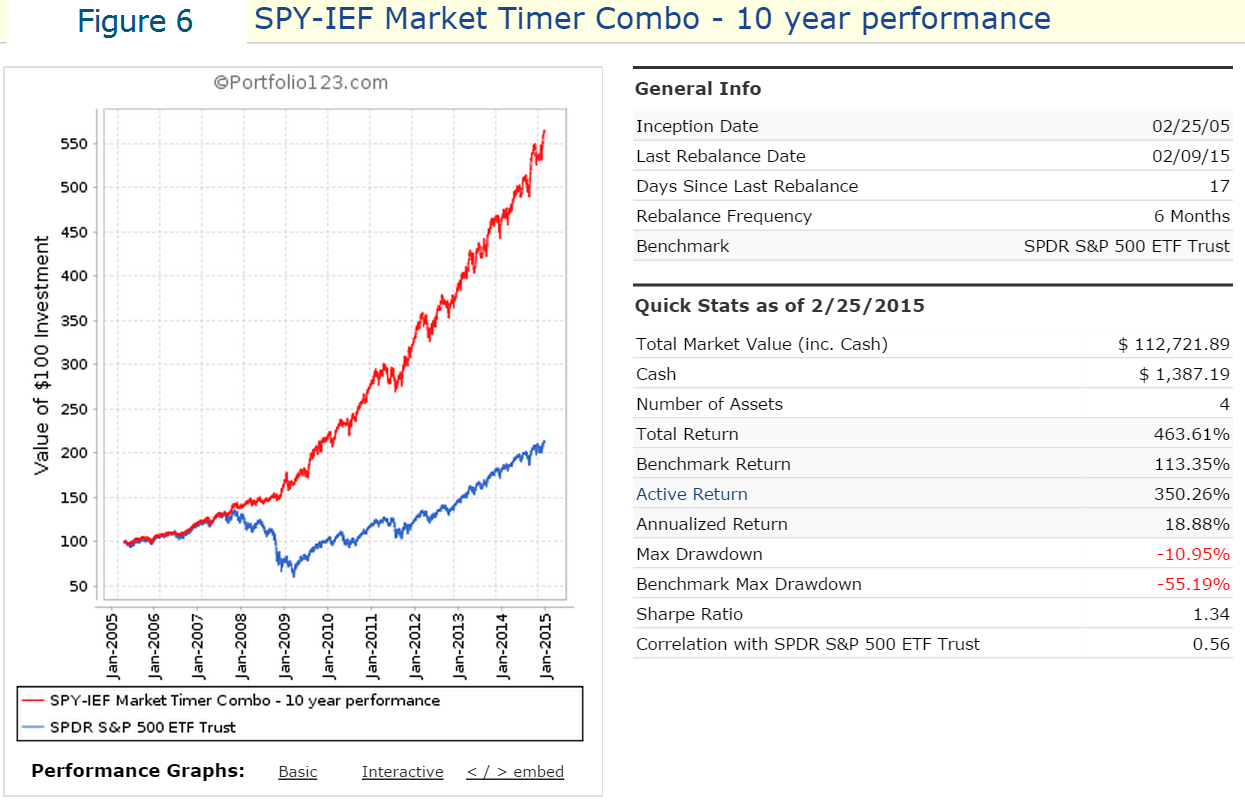 (click to enlarge)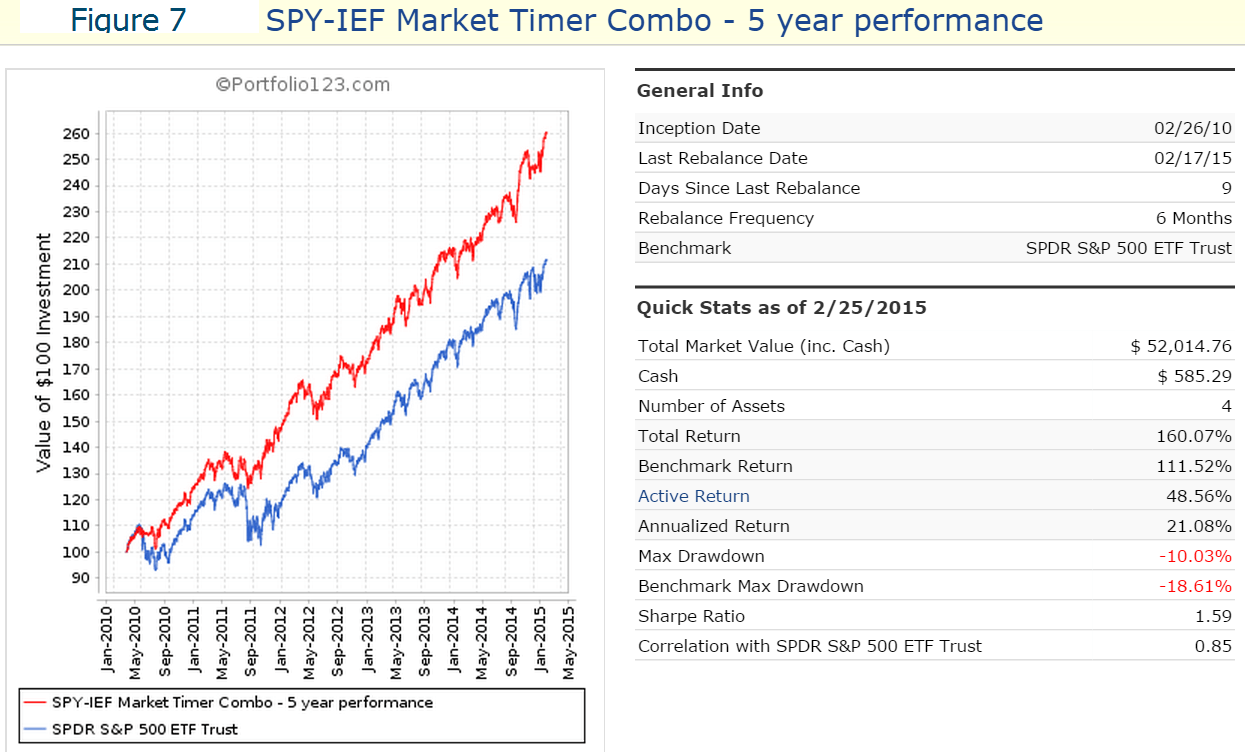 (click to enlarge)
Disclaimer
One should be aware that most of the results shown are from a simulation and not from actual trading. Out-of-sample performance of the three component models is relatively short. This timing model is presented for informational and educational purposes only and shall not be construed as advice to invest in any assets. Out-of-sample performance may be much different. Backtesting results should be interpreted in light of differences between simulated performance and actual trading, and an understanding that past performance is no guarantee of future results. All investors should make investment choices based upon their own analysis of the asset, its expected returns and risks, or consult a financial adviser.