The iM-Gold Timer and the iM-Composite Market Timer are used in combination to signal periodic investments in gold, stocks and bonds.
From Jan-2000 to Jan-2017 the Gold Timer signaled eight gold investment periods totaling only 9.3 years, while for the remaining periods totaling 7.7 years the model would have been in cash.
During the "cash periods" the Composite Market Timer provides the signals when to invest in stock and/or bond ETFs. Bond ETFs include the ETF (XLU) are also selected according to the prevailing Market Climate Score (MC-Score) and a ranking system.
The model was backtested from Jan-2000 to Jan-2017 using the on-line portfolio simulation platform Portfolio 123, which also provides extended price data for ETFs prior to their inception dates calculated from their proxies. Trading costs of 0.1% of all trade amounts were applied to provide for slippage and broker commission.
The ETF Selection List:
In the simulation the specified position weight is 50%, requiring the model to always hold simultaneously two ETFs, which can be two gold-ETFs, or two stock-ETFs, or one stock- and on bond-ETF, or two bond-ETFs selected from the list below.
GOLD: 
 
SPDR Gold Shares (GLD),
 
 iShares Gold Trust (IAU).
 STOCKS 
 
 Guggenheim S&P 500 Equal Weight ETF (RSP)
 
 ProShares Ultra S&P500 (SSO).
 BONDS   
 when MC-Score <=3:
 
 iShares iBoxx $ Invst Grade Crp Bond (LQD),
 
 Vanguard Emerging Markets Govt Bd ETF (VWOB),
 
 Utilities Select Sector SPDR ETF (XLU).
 BONDS   
 when MC-Score >3:
 
Vanguard Mortgage-Backed Securities ETF (VMBS),
 
Schwab US TIPS ETF (SCHP),
 
Vanguard Intermediate-Term Bond ETF (BIV).
Performance
The simulated performance is shown for three versions:
            Figure-1: Gold only (iM-Gold Timer),
            Figure-2: Gold and stocks,
            Figure-3: Gold, stocks, and bonds (iM-Gold-Stocks-Bonds Timer).
Note the approximately 1.5-times leverage when the model simultaneously holds RSP and SSO.
For the 17 year backtest period the simulated annualized return increases from 13.26% for the iM-Gold Timer to 25.73% for the iM-Gold-Stocks-Bonds Timer. Maximum drawdown occurred when the model was in gold, and remains the same -24% for all three versions.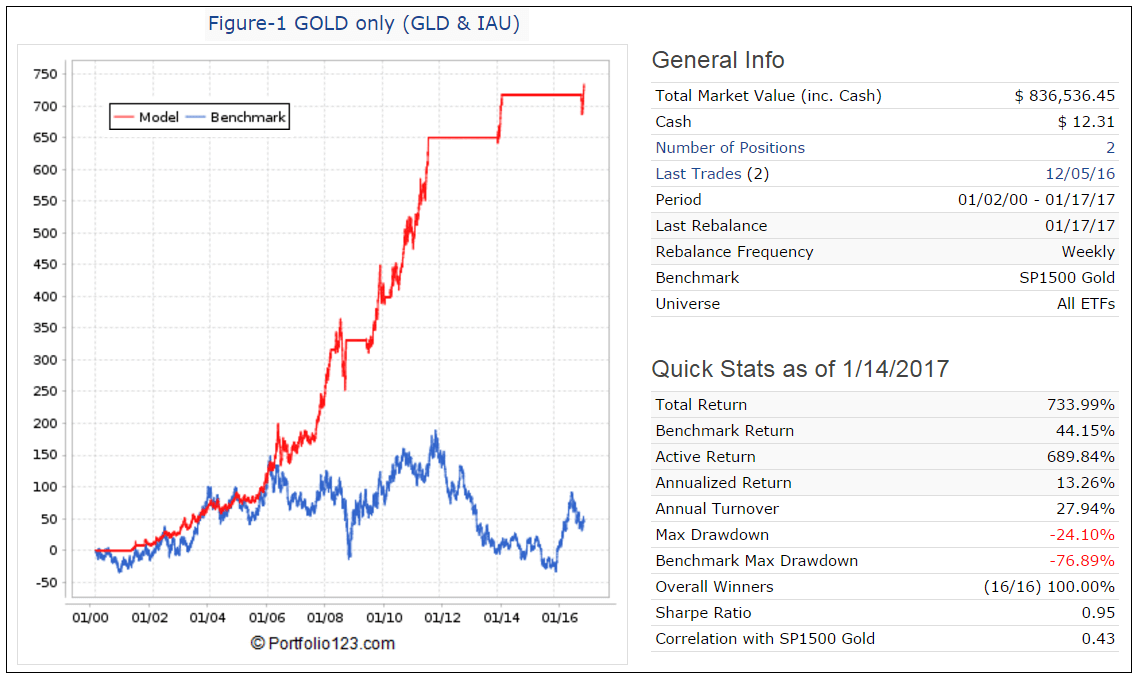 (click to enlarge)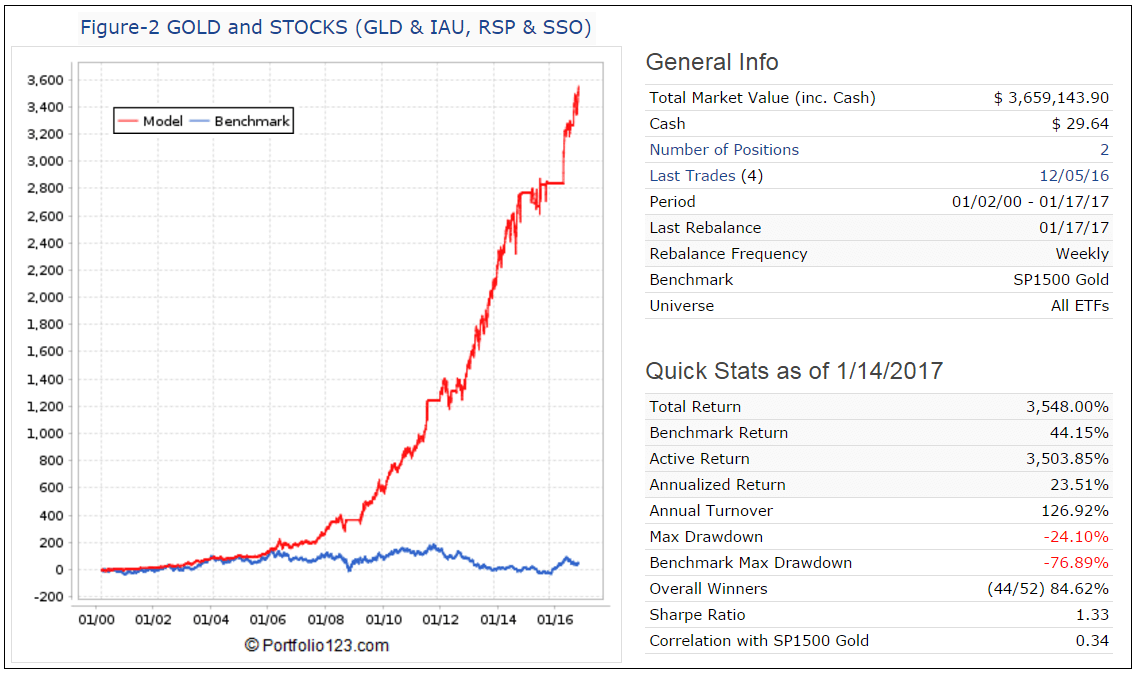 (click to enlarge)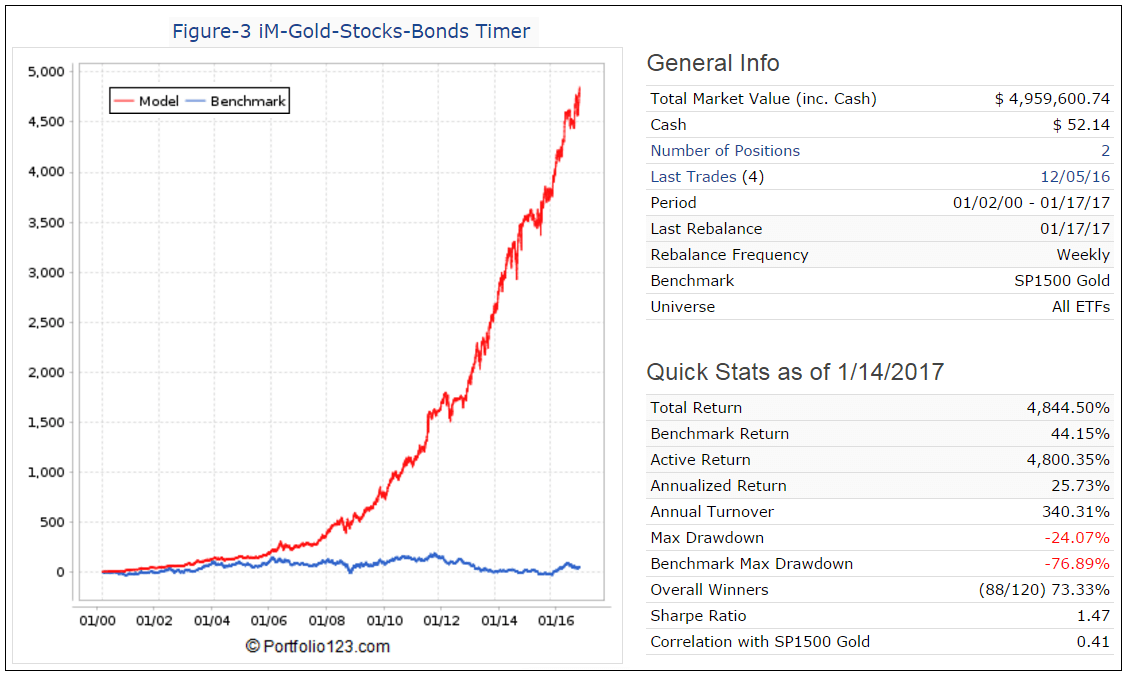 (click to enlarge)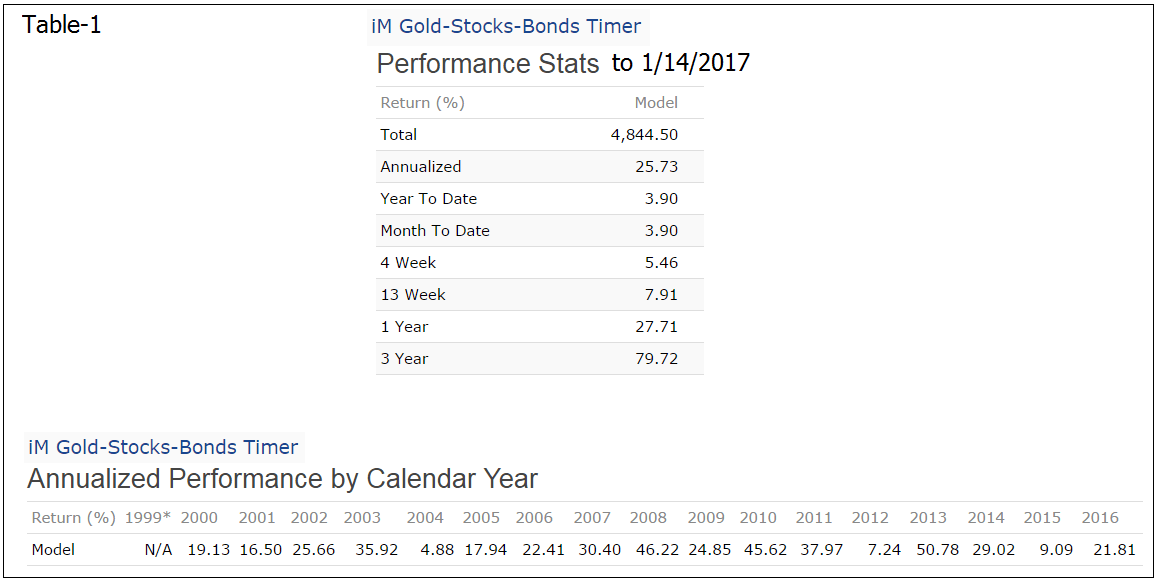 (click to enlarge)
Risk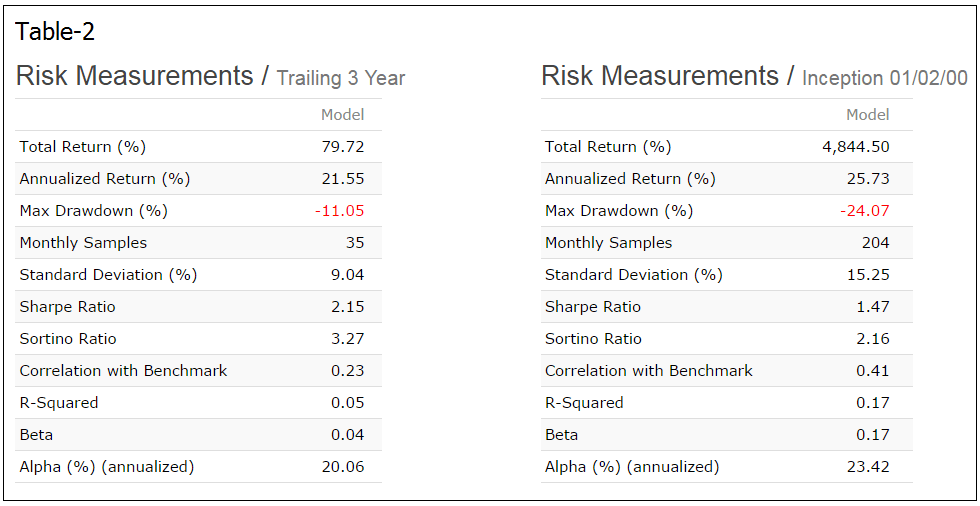 (click to enlarge)
Trading Statistics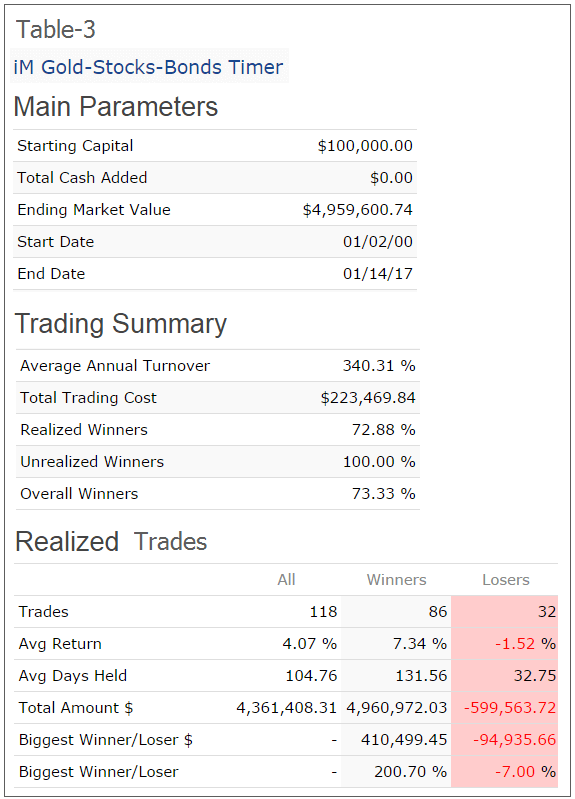 Following the model
On iMarketSignals (Gold membership required) we will track this model, with weekly trading signals normally provided on Sundays.
Disclaimer
Note: All performance results are hypothetical and the result of backtesting over the period 2000 to 2017. Out-of-sample performance may be different. No claim is made about future performance.
Appendix
List of historic trades
| | | | | | |
| --- | --- | --- | --- | --- | --- |
|   | Symbol | Open | Close | Days | Pct. Return |
| 1 | LQD | 01/03/2000 | 01/24/2000 | 21 | -1.00% |
| 2 | VWOB | 01/03/2000 | 01/18/2000 | 15 | -1.30% |
| 3 | XLU | 01/18/2000 | 01/31/2000 | 13 | 2.70% |
| 4 | VWOB | 01/24/2000 | 02/07/2000 | 14 | 1.10% |
| 5 | LQD | 01/31/2000 | 02/14/2000 | 14 | 0.20% |
| 6 | RSP | 02/07/2000 | 06/19/2000 | 133 | 7.50% |
| 7 | VWOB | 02/14/2000 | 02/28/2000 | 14 | 0.70% |
| 8 | LQD | 02/28/2000 | 03/13/2000 | 14 | -0.30% |
| 9 | VWOB | 03/13/2000 | 03/27/2000 | 14 | 1.10% |
| 10 | LQD | 03/27/2000 | 04/10/2000 | 14 | 1.10% |
| 11 | VWOB | 04/10/2000 | 04/24/2000 | 14 | -2.00% |
| 12 | LQD | 04/24/2000 | 10/16/2000 | 175 | 3.40% |
| 13 | VWOB | 06/19/2000 | 10/09/2000 | 112 | 5.40% |
| 14 | SSO | 10/09/2000 | 11/06/2000 | 28 | 3.10% |
| 15 | RSP | 10/16/2000 | 11/06/2000 | 21 | 6.50% |
| 16 | LQD | 11/06/2000 | 04/02/2001 | 147 | 7.50% |
| 17 | VWOB | 11/06/2000 | 04/02/2001 | 147 | 6.90% |
| 18 | IAU | 04/02/2001 | 05/29/2001 | 57 | 7.50% |
| 19 | GLD | 04/02/2001 | 05/29/2001 | 57 | 7.50% |
| 20 | LQD | 05/29/2001 | 09/10/2001 | 104 | 4.80% |
| 21 | VWOB | 05/29/2001 | 09/10/2001 | 104 | 1.30% |
| 22 | IAU | 09/10/2001 | 03/17/2003 | 553 | 25.60% |
| 23 | GLD | 09/10/2001 | 03/17/2003 | 553 | 25.30% |
| 24 | LQD | 03/17/2003 | 03/31/2003 | 14 | 0.90% |
| 25 | VWOB | 03/17/2003 | 03/31/2003 | 14 | 0.50% |
| 26 | SSO | 03/31/2003 | 04/21/2003 | 21 | 10.20% |
| 27 | RSP | 03/31/2003 | 04/21/2003 | 21 | 6.20% |
| 28 | IAU | 04/21/2003 | 03/17/2008 | 1792 | 200.70% |
| 29 | GLD | 04/21/2003 | 03/17/2008 | 1792 | 198.70% |
| 30 | VWOB | 03/17/2008 | 05/05/2008 | 49 | 1.90% |
| 31 | LQD | 03/17/2008 | 05/05/2008 | 49 | 1.60% |
| 32 | GLD | 05/05/2008 | 09/29/2008 | 147 | 3.70% |
| 33 | IAU | 05/05/2008 | 09/29/2008 | 147 | 3.50% |
| 34 | LQD | 09/29/2008 | 03/30/2009 | 182 | 13.90% |
| 35 | VWOB | 09/29/2008 | 03/23/2009 | 175 | -3.80% |
| 36 | XLU | 03/23/2009 | 04/06/2009 | 14 | -1.70% |
| 37 | VWOB | 03/30/2009 | 04/13/2009 | 14 | 6.60% |
| 38 | LQD | 04/06/2009 | 04/20/2009 | 14 | 3.20% |
| 39 | RSP | 04/13/2009 | 06/01/2009 | 49 | 15.90% |
| 40 | VWOB | 04/20/2009 | 05/04/2009 | 14 | 2.40% |
| 41 | LQD | 05/04/2009 | 05/18/2009 | 14 | 0.70% |
| 42 | VWOB | 05/18/2009 | 06/08/2009 | 21 | 1.20% |
| 43 | LQD | 06/01/2009 | 06/15/2009 | 14 | 1.50% |
| 44 | GLD | 06/08/2009 | 02/01/2010 | 238 | 15.60% |
| 45 | IAU | 06/15/2009 | 02/01/2010 | 231 | 18.60% |
| 46 | SSO | 02/01/2010 | 04/05/2010 | 63 | 18.40% |
| 47 | RSP | 02/01/2010 | 04/05/2010 | 63 | 11.60% |
| 48 | IAU | 04/05/2010 | 08/08/2011 | 490 | 50.60% |
| 49 | GLD | 04/05/2010 | 08/08/2011 | 490 | 50.40% |
| 50 | SSO | 08/08/2011 | 08/29/2011 | 21 | 15.10% |
| 51 | RSP | 08/08/2011 | 08/29/2011 | 21 | 9.20% |
| 52 | LQD | 08/29/2011 | 01/30/2012 | 154 | 3.80% |
| 53 | VWOB | 08/29/2011 | 01/30/2012 | 154 | 1.70% |
| 54 | SSO | 01/30/2012 | 07/02/2012 | 154 | 8.00% |
| 55 | XLU | 01/30/2012 | 02/13/2012 | 14 | 0.50% |
| 56 | LQD | 02/13/2012 | 02/27/2012 | 14 | 0.50% |
| 57 | XLU | 02/27/2012 | 03/12/2012 | 14 | 1.20% |
| 58 | LQD | 03/12/2012 | 03/26/2012 | 14 | -1.30% |
| 59 | RSP | 03/26/2012 | 07/02/2012 | 98 | -5.30% |
| 60 | VWOB | 07/02/2012 | 09/04/2012 | 64 | 4.40% |
| 61 | LQD | 07/02/2012 | 08/27/2012 | 56 | 1.70% |
| 62 | XLU | 08/27/2012 | 09/10/2012 | 14 | -0.50% |
| 63 | LQD | 09/04/2012 | 09/17/2012 | 13 | -0.20% |
| 64 | VWOB | 09/10/2012 | 09/24/2012 | 14 | -0.10% |
| 65 | XLU | 09/17/2012 | 10/01/2012 | 14 | -0.40% |
| 66 | LQD | 09/24/2012 | 10/08/2012 | 14 | 0.50% |
| 67 | VWOB | 10/01/2012 | 10/15/2012 | 14 | 1.40% |
| 68 | XLU | 10/08/2012 | 10/22/2012 | 14 | 0.40% |
| 69 | LQD | 10/15/2012 | 10/31/2012 | 16 | -0.30% |
| 70 | VWOB | 10/22/2012 | 11/05/2012 | 14 | -0.90% |
| 71 | XLU | 10/31/2012 | 11/12/2012 | 12 | -7.00% |
| 72 | LQD | 11/05/2012 | 11/19/2012 | 14 | -0.40% |
| 73 | SSO | 11/12/2012 | 04/01/2013 | 140 | 28.70% |
| 74 | VWOB | 11/19/2012 | 12/03/2012 | 14 | 1.10% |
| 75 | LQD | 12/03/2012 | 12/17/2012 | 14 | -1.10% |
| 76 | VWOB | 12/17/2012 | 12/31/2012 | 14 | 0.60% |
| 77 | RSP | 12/31/2012 | 04/01/2013 | 91 | 11.00% |
| 78 | VWOB | 04/01/2013 | 04/15/2013 | 14 | 2.60% |
| 79 | LQD | 04/01/2013 | 04/22/2013 | 21 | 1.80% |
| 80 | XLU | 04/15/2013 | 04/29/2013 | 14 | 3.70% |
| 81 | SSO | 04/22/2013 | 01/06/2014 | 259 | 37.60% |
| 82 | VWOB | 04/29/2013 | 05/13/2013 | 14 | -0.90% |
| 83 | XLU | 05/13/2013 | 05/28/2013 | 15 | -3.30% |
| 84 | RSP | 05/28/2013 | 01/06/2014 | 223 | 10.90% |
| 85 | IAU | 01/06/2014 | 03/03/2014 | 56 | 9.00% |
| 86 | GLD | 01/06/2014 | 03/03/2014 | 56 | 8.80% |
| 87 | RSP | 03/03/2014 | 12/22/2014 | 294 | 11.20% |
| 88 | XLU | 03/03/2014 | 03/17/2014 | 14 | 2.60% |
| 89 | SSO | 03/17/2014 | 12/22/2014 | 280 | 25.80% |
| 90 | VWOB | 12/22/2014 | 05/11/2015 | 140 | 1.80% |
| 91 | LQD | 12/22/2014 | 05/04/2015 | 133 | -1.20% |
| 92 | RSP | 05/04/2015 | 06/08/2015 | 35 | -2.00% |
| 93 | LQD | 05/11/2015 | 05/26/2015 | 15 | 0.30% |
| 94 | VWOB | 05/26/2015 | 07/06/2015 | 41 | -2.60% |
| 95 | LQD | 06/08/2015 | 07/06/2015 | 28 | -0.10% |
| 96 | SSO | 07/06/2015 | 07/27/2015 | 21 | -0.30% |
| 97 | RSP | 07/06/2015 | 07/27/2015 | 21 | -1.50% |
| 98 | XLU | 07/27/2015 | 08/24/2015 | 28 | 0.90% |
| 99 | VWOB | 07/27/2015 | 08/24/2015 | 28 | -2.60% |
| 100 | SSO | 08/24/2015 | 09/08/2015 | 15 | 7.90% |
| 101 | RSP | 08/24/2015 | 09/08/2015 | 15 | 3.70% |
| 102 | XLU | 09/08/2015 | 11/16/2015 | 69 | 3.20% |
| 103 | VWOB | 09/08/2015 | 11/09/2015 | 62 | 0.00% |
| 104 | LQD | 11/09/2015 | 11/23/2015 | 14 | 0.80% |
| 105 | SSO | 11/16/2015 | 12/07/2015 | 21 | 2.30% |
| 106 | VWOB | 11/23/2015 | 06/27/2016 | 217 | 3.20% |
| 107 | XLU | 12/07/2015 | 06/27/2016 | 203 | 19.40% |
| 108 | RSP | 06/27/2016 | 07/18/2016 | 21 | 9.20% |
| 109 | LQD | 06/27/2016 | 07/25/2016 | 28 | 1.10% |
| 110 | VWOB | 07/18/2016 | 08/01/2016 | 14 | -0.70% |
| 111 | RSP | 07/25/2016 | 09/06/2016 | 43 | 0.80% |
| 112 | LQD | 08/01/2016 | 08/15/2016 | 14 | 0.10% |
| 113 | VWOB | 08/15/2016 | 08/29/2016 | 14 | -0.10% |
| 114 | SSO | 08/29/2016 | 09/19/2016 | 21 | -3.90% |
| 115 | VWOB | 09/06/2016 | 11/07/2016 | 62 | -2.00% |
| 116 | LQD | 09/19/2016 | 11/07/2016 | 49 | -1.00% |
| 117 | SSO | 11/07/2016 | 12/05/2016 | 28 | 7.20% |
| 118 | RSP | 11/07/2016 | 12/05/2016 | 28 | 5.20% |