We have revised the iM Gold-Timer and will use this model with additional rules to invest in stocks and bonds when not in gold. The Gold-Stocks-Bonds Model launch is scheduled end January 2017.
The iM Gold-Timer endeavors to signal long-term investment periods for Gold. It uses the SPDR® Gold Shares ETF: GLD. When not invested in GLD the model goes to 100% cash.
The model was backtested on the web-based portfolio simulation platform Portfolio 123 from Jan-2-2000 onward, as this was the first full year when the algorithm had access to all the economic indicators it uses:
Federal Funds Rate,
10-year Treasury Note yield,
S&P500 Estimated Earnings Yield, and
Gold Price.
There is also a 11% stop-loss provision in the sell rules.
Figure-1 and 2 chart the simulated performance for the revised and deprecated models, respectively.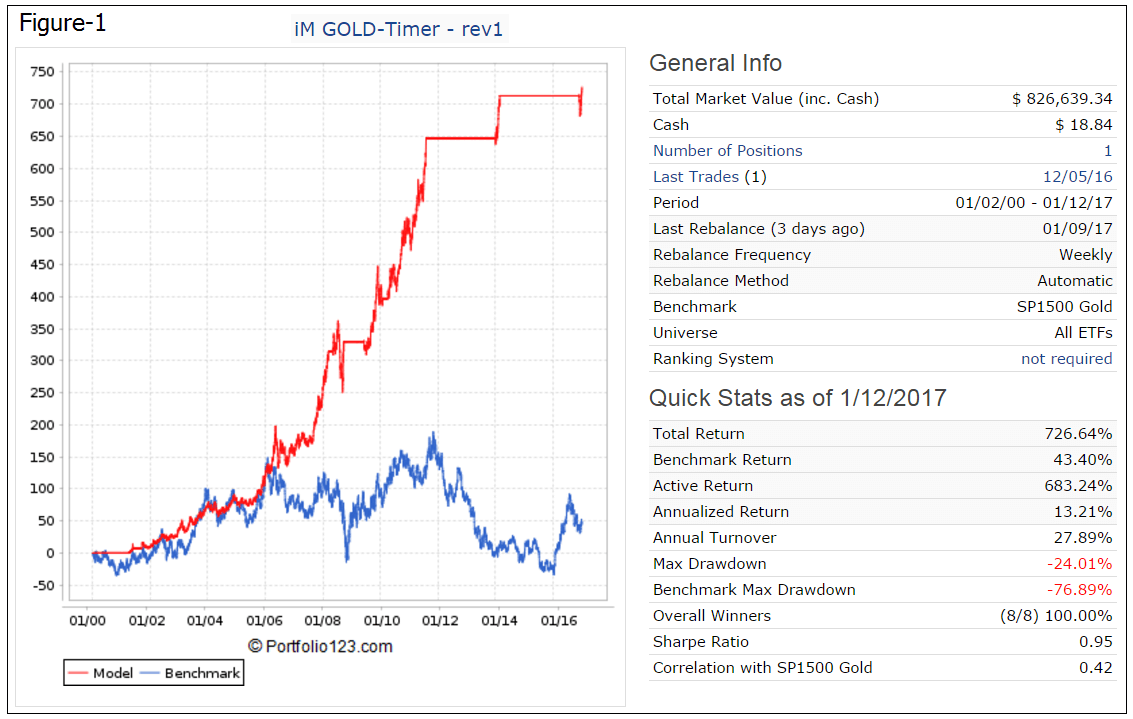 (click to enlarge)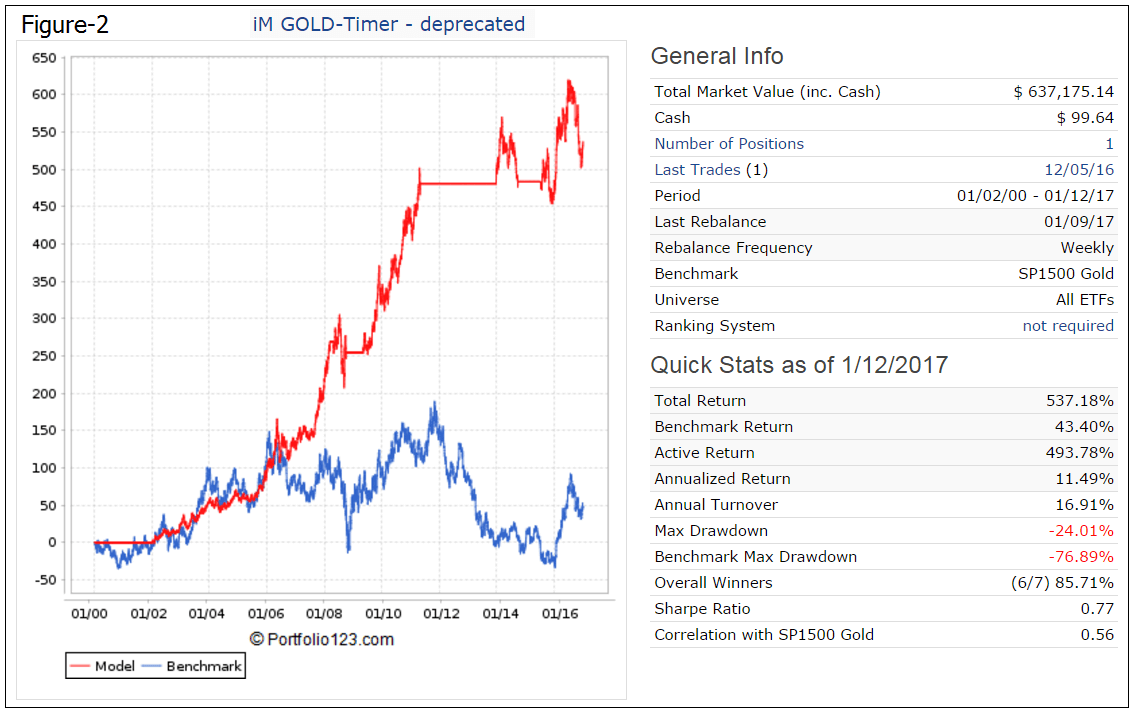 (click to enlarge)
The timing algorithm is partly based on our research reported in this article: Are Gold Prices Correlated to the Real Federal Funds Rate?
 This revised strategy would have produced an average annualized return of about 13.2% from Jan-2000 to Jan-2017, with a maximum drawdown of -24.0%.
The prices for transactions were taken to be "Next Close" after a signal was generated and slippage of 0.1% of the transaction amount was assumed for the simulation. There were only 7 completed trades. The last buy signal was generated on December 5, 2016.
On iMarketSignals (Bronze membership required) we will track this model, but instead of using the ETF GLD as a benchmark, we will track the performance relative the actual gold price (London PM fix), and is updated with the Friday weekly update as a macro signal.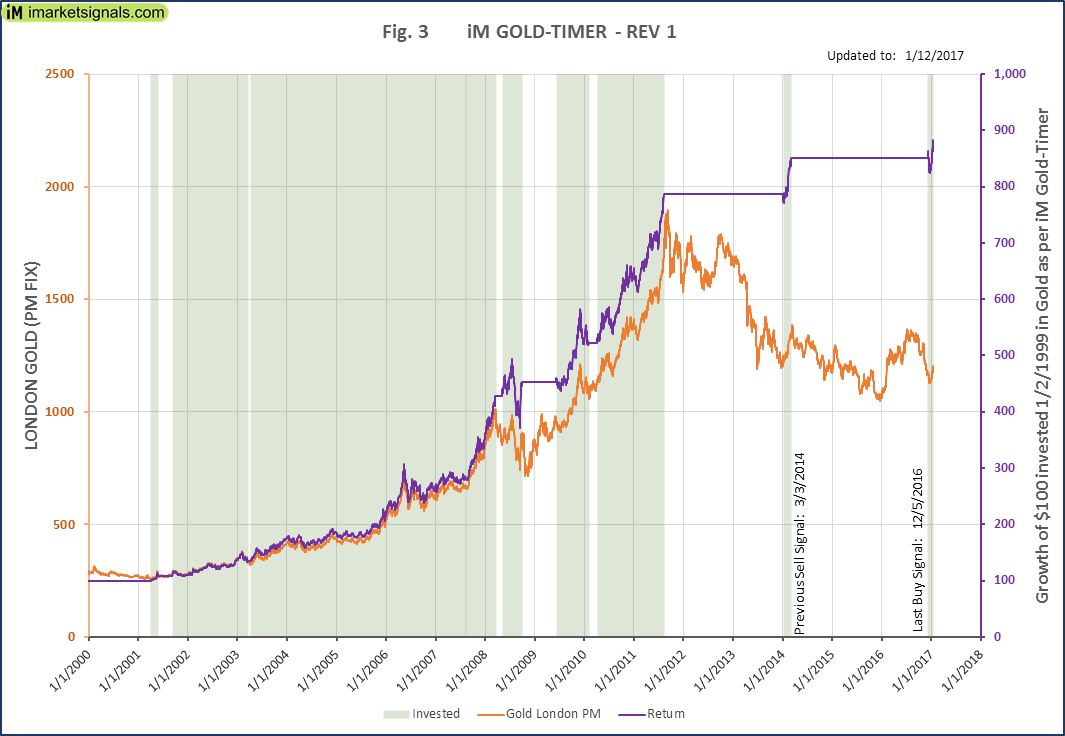 (click to enlarge)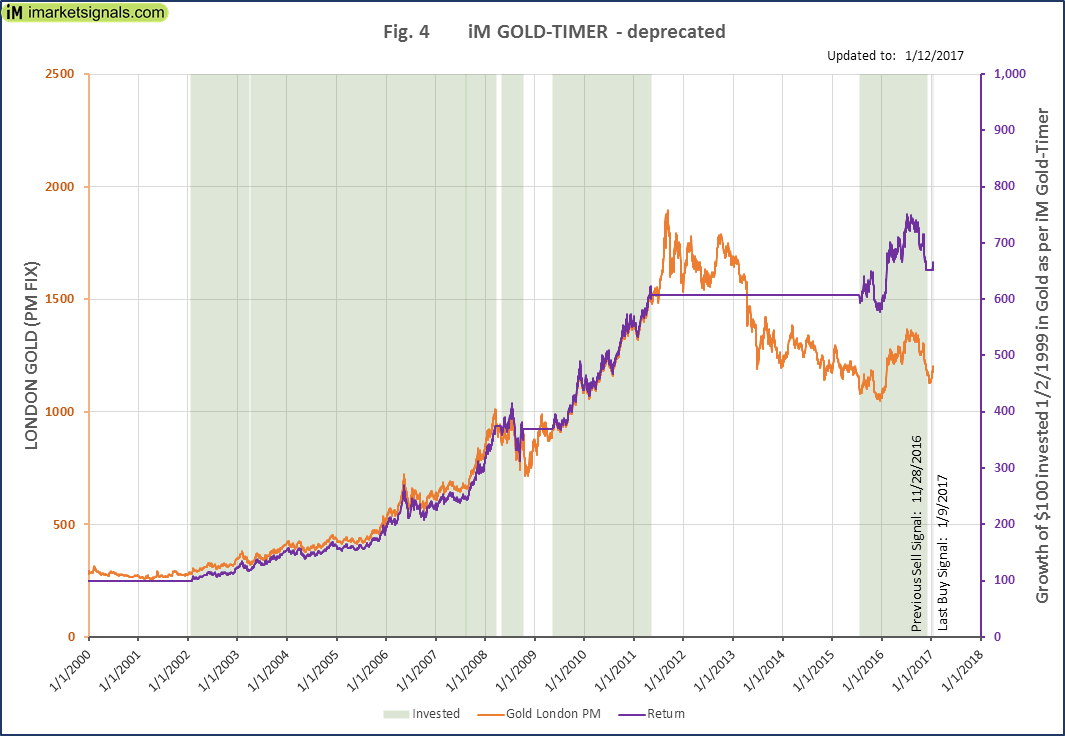 (click to enlarge)
Note: All performance results are hypothetical and the result of backtesting over the period 2000 to 2014. Out-of-sample performance may be different. No claim is made about future performance.