Please also refer to https://imarketsignals.com/im-flipsavers/
Rev 1. Responding to user comments, and to reduce drawdowns in down-market periods, we changed all models to hold 20% stocks and 80% Bonds in down-market conditions.
In order to simplify retirement investment we are replacing our iM-Vanguard/TIAA-CREF Systems (updated monthly) with three iM-FlipSaver Models (updated weekly).
Prudent investors have assets allocated to both bonds and stocks. This conservative strategy is found in the Vanguard LifeStrategy Funds that invest statically in bonds and stocks and also in Life-Cycle/Target-Date Retirement Funds.
Instead of a static bond/stock ratio, these models change allocation in accordance with stock market conditions;  e.g. during up-market periods the models hold more stocks than bonds, and during down-market periods the allocation "flips" to holding less stocks than bonds. This should improve performance and reduce drawdowns.
The required market timing to signal flipping comes from a combination of our Composite Market Timer and a momentum timer based on the movement of the S&P 500 index.
To reduce turnover and to facilitate mutual fund investments the models hold positions longer than 45 days.
Asset Allocations
The nominal asset allocations for the three models are:
Up market:

Model-1: 80% stocks & 20% bonds
Model-2: 70% stocks & 30% bonds
Model-3: 60% stocks & 40% bonds

Down market:

Model-1: 20% stocks & 80% bonds
Model-2: 20% stocks & 80% bonds
Model-3: 20% stocks & 80% bonds
Assets used (ETFs or Mutual Funds)
Stock Funds:
Vanguard Total Stock Market Index ETF (VTI) or Mutual Fund (VSMPX)
Vanguard Dividend Appreciation ETF (VIG) or Mutual Fund (VDADX)
Bond Funds:
Vanguard Total Bond Market Index ETF (BND) or Mutual Fund (VBTIX)
 iShares TIPS Bond ETF (TIP) or Vanguard Inflation-Protected Securities Fund (VIPIX)
Simulated Performance Jan-1999 to Dec-2018
The backtests (over a 20 year period) were performed on the on-line simulation platform Portfolio 123 which also provides extended data prior to ETFs' inception dates calculated from the ETFs' proxies. The starting capital was assumed to be $100,000, and trading costs of 0.1% of every trade amount were taken into account in the simulated returns.
Figures-1, -2, and -3 show the  simulated performance of the three FlipSaver models to Dec-15-2018.
Tables-1.1, -2.1, and -3.1 provide the corresponding Risk Measurements.
Tables-1.2, -2.2, and -3.2 provide the corresponding Performance Measurements.
All models  would have out-perform their benchmarks with less risk.
Note that the models switched to down-market allocations  on Dec-10-2018.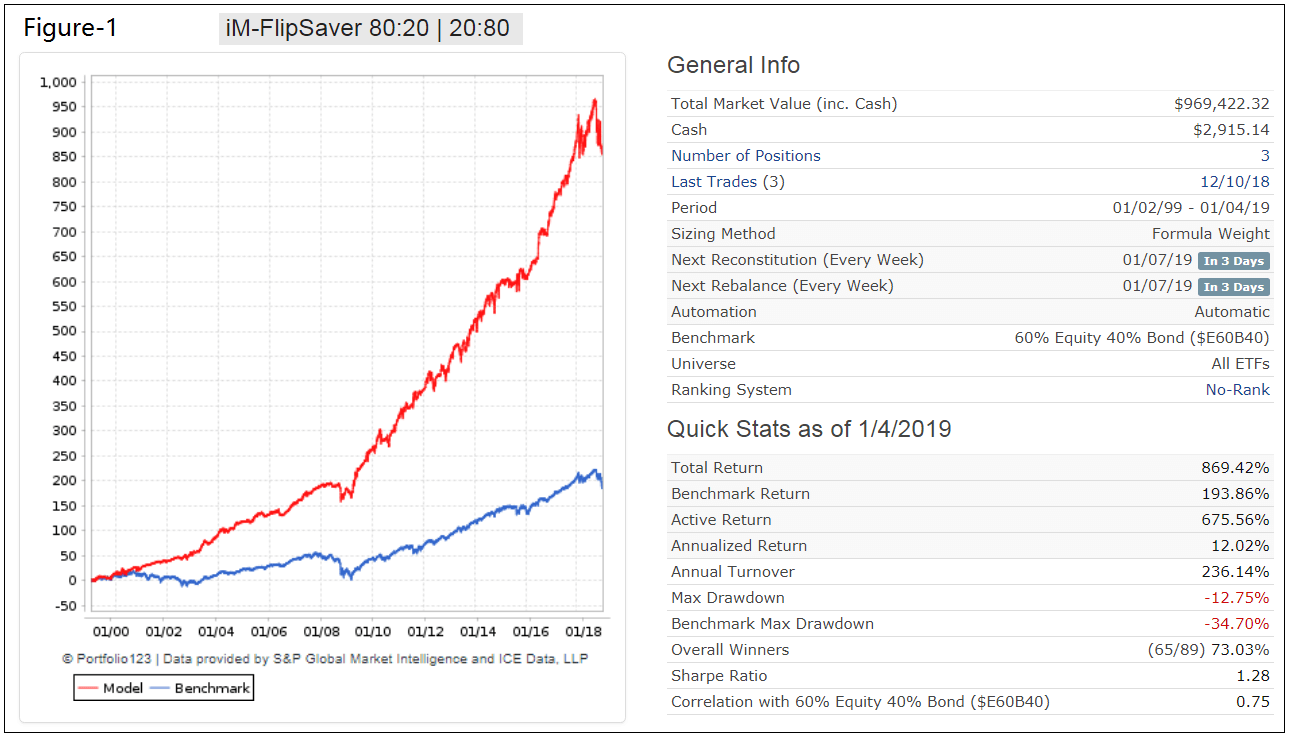 (click to enlarge)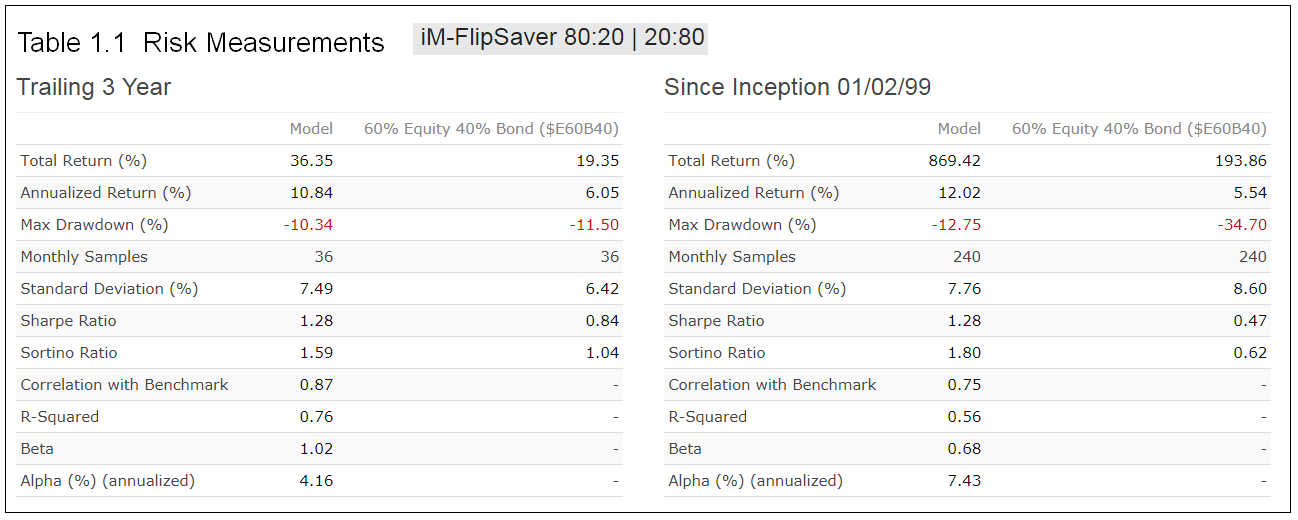 (click to enlarge)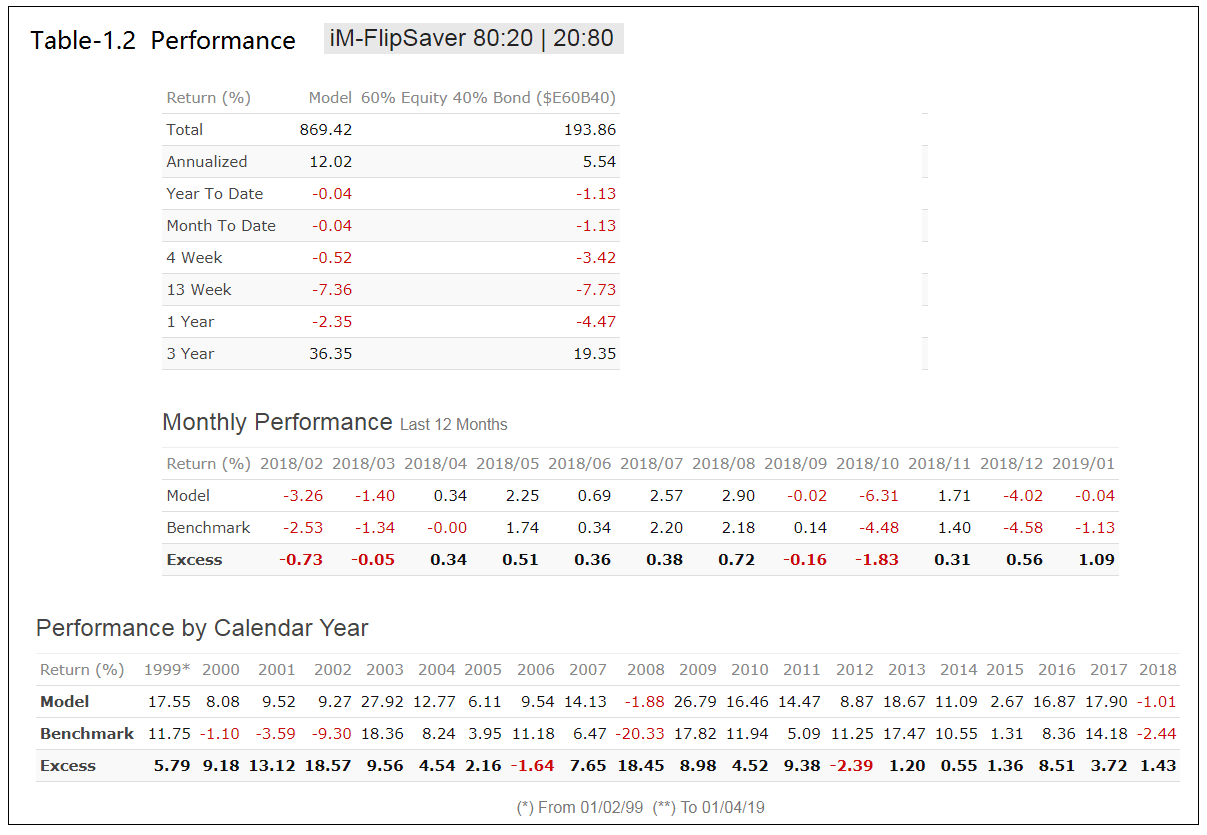 (click to enlarge)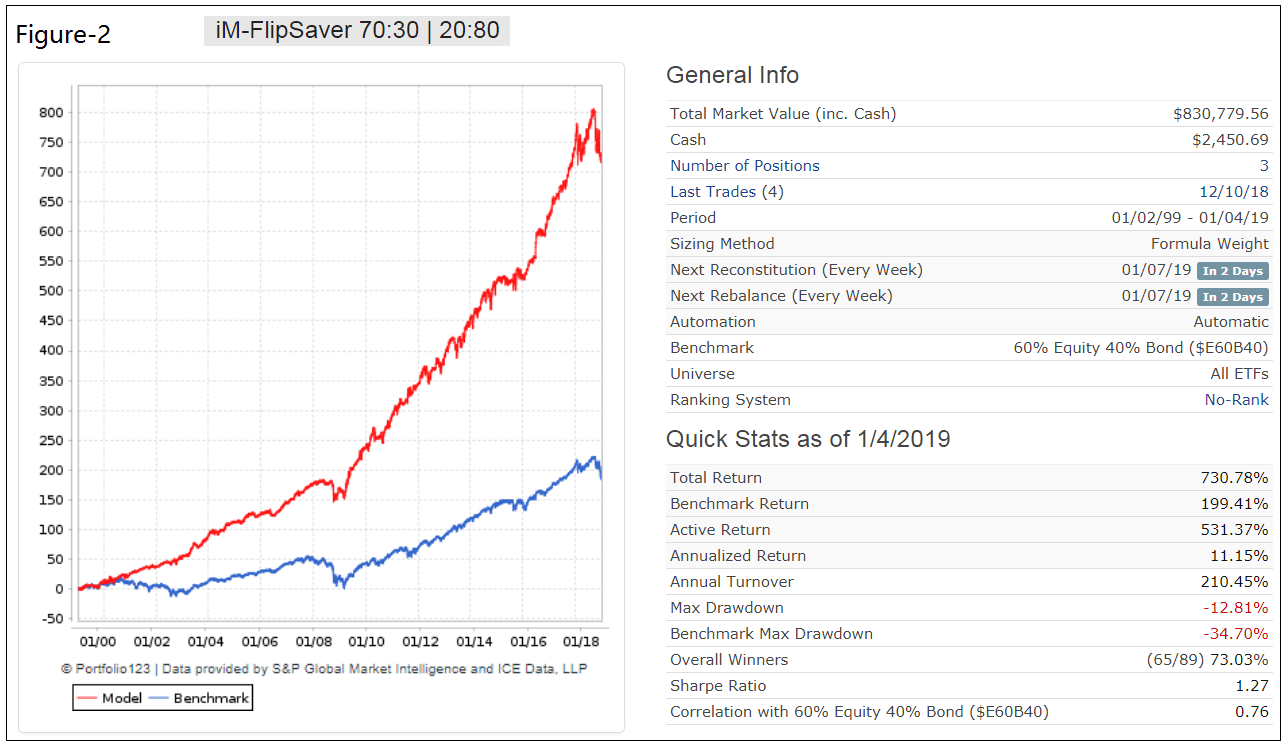 (click to enlarge)

(click to enlarge)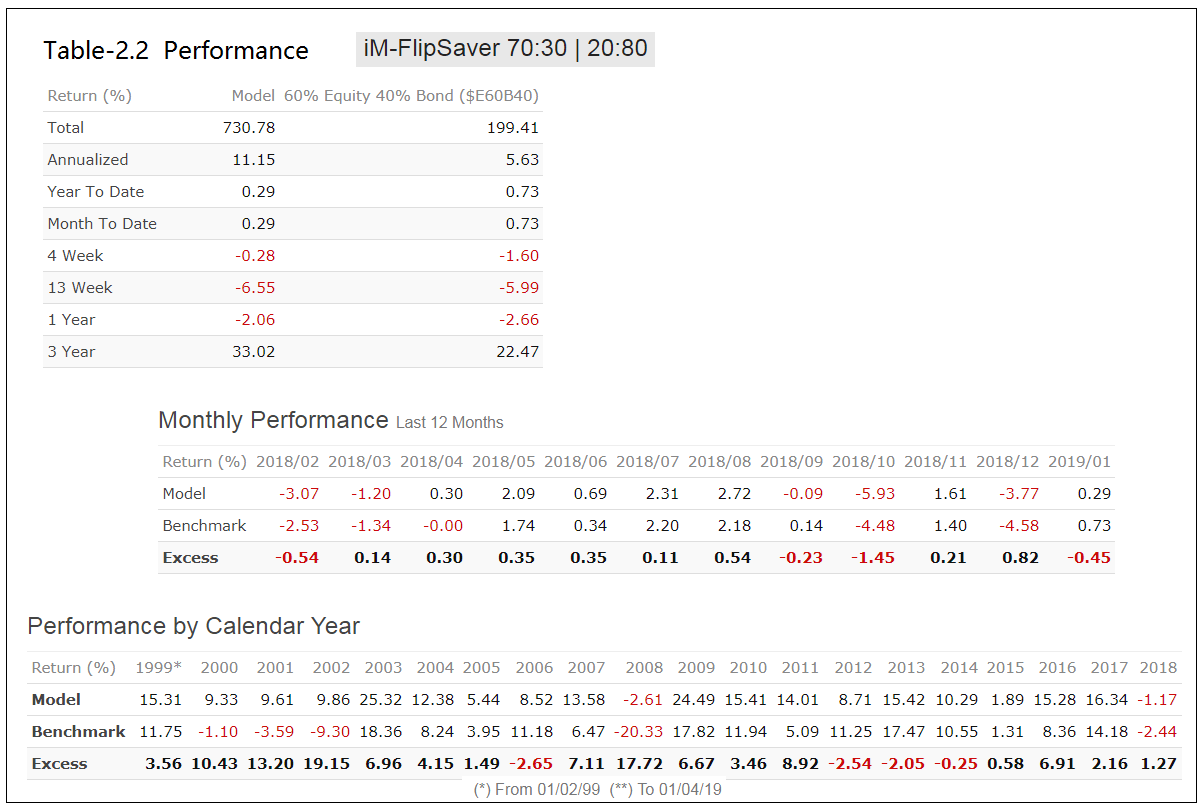 (click to enlarge)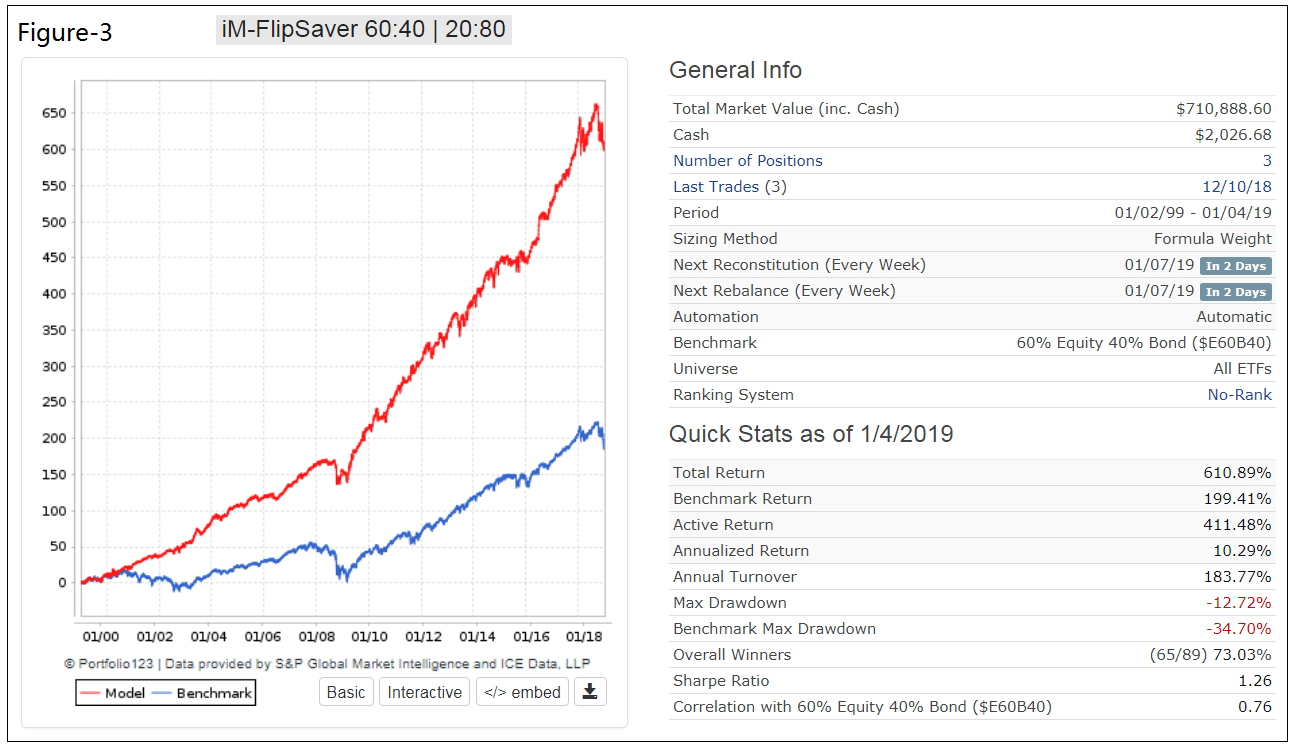 (click to enlarge)

(click to enlarge)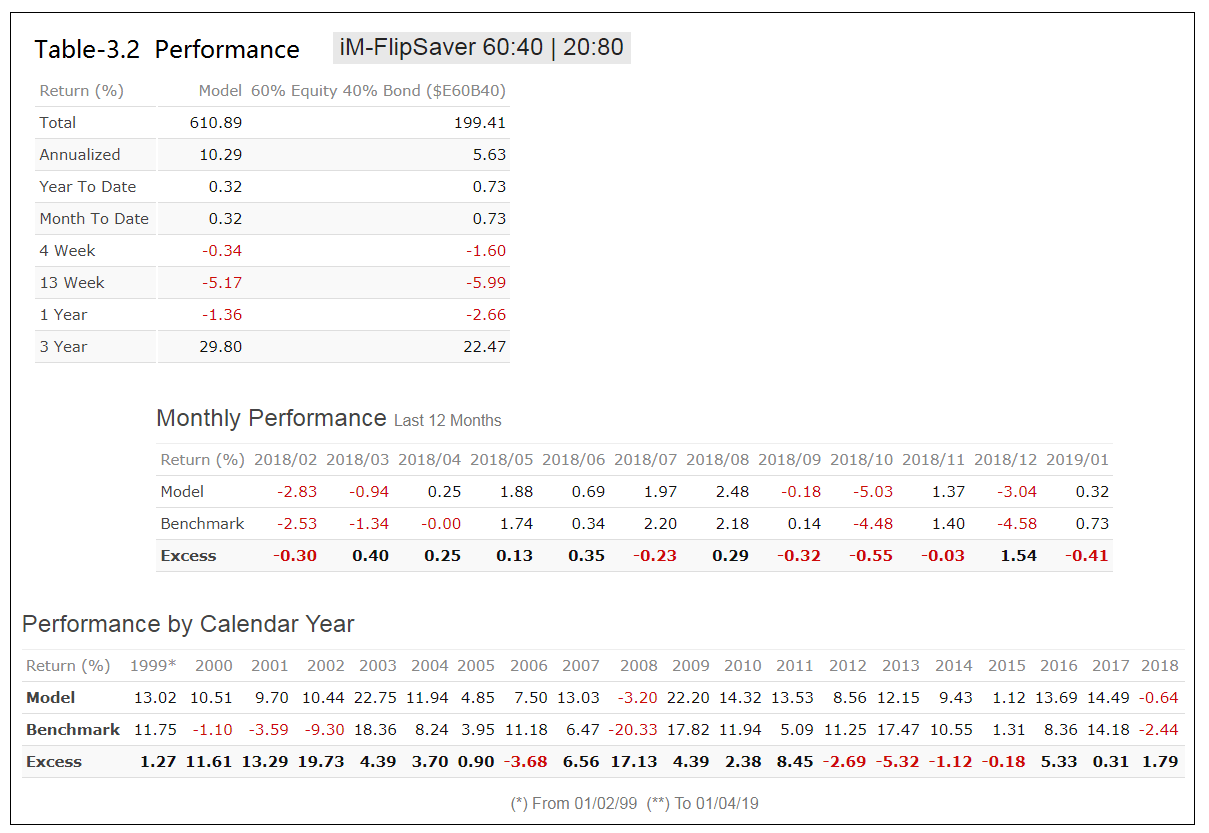 (click to enlarge)
Holding history can be downloaded here: FlipSaverHoldingPeriods.xlsx
Conclusion
The backtests suggest that the iM-FlipSaver Models could be useful for retirement saving. Allocation changes are infrequent, with the average holding period of a position being about four months. Small re-balancing trades can have short holding periods, but can be ignored if accurate target exposure to nominal position weights is not required. At iMarketSignals we will provide weekly updates of these models.
Disclaimer
The performance data shown represent simulated past performance, which is not a guarantee of future results. Investment returns and portfolio value will fluctuate, and future signals from these models may not be as efficient as they were in the past.