In order to maximize returns one has to know when to enter and exit the TIAA Real Estate Account.
Our analysis shows that a firm sell signal arises when its 1-year rolling return moves below 0%.
A subsequent buy signal would be given when its 1-year rolling return moves from below to above 0%.
This $20-billion account provides direct ownership interests in commercial real estate, offering diversification beyond traditional equity and fixed-income investments with guaranteed daily liquidity. The daily value is determined by a formula resulting in very low volatility of the account's unit value, as evidenced by the smooth performance graph of the TIAA Real Estate Account (QREARX), hereinafter further referred to as TIAAreal.
In this article we analyzed the performance of TIAAreal which recorded a minimum 1-year Rolling Return of -35% as shown by the red graph in the chart below. This chart is similar to our monthly update posting at iMarketSignals.com and is marked as Fig-1.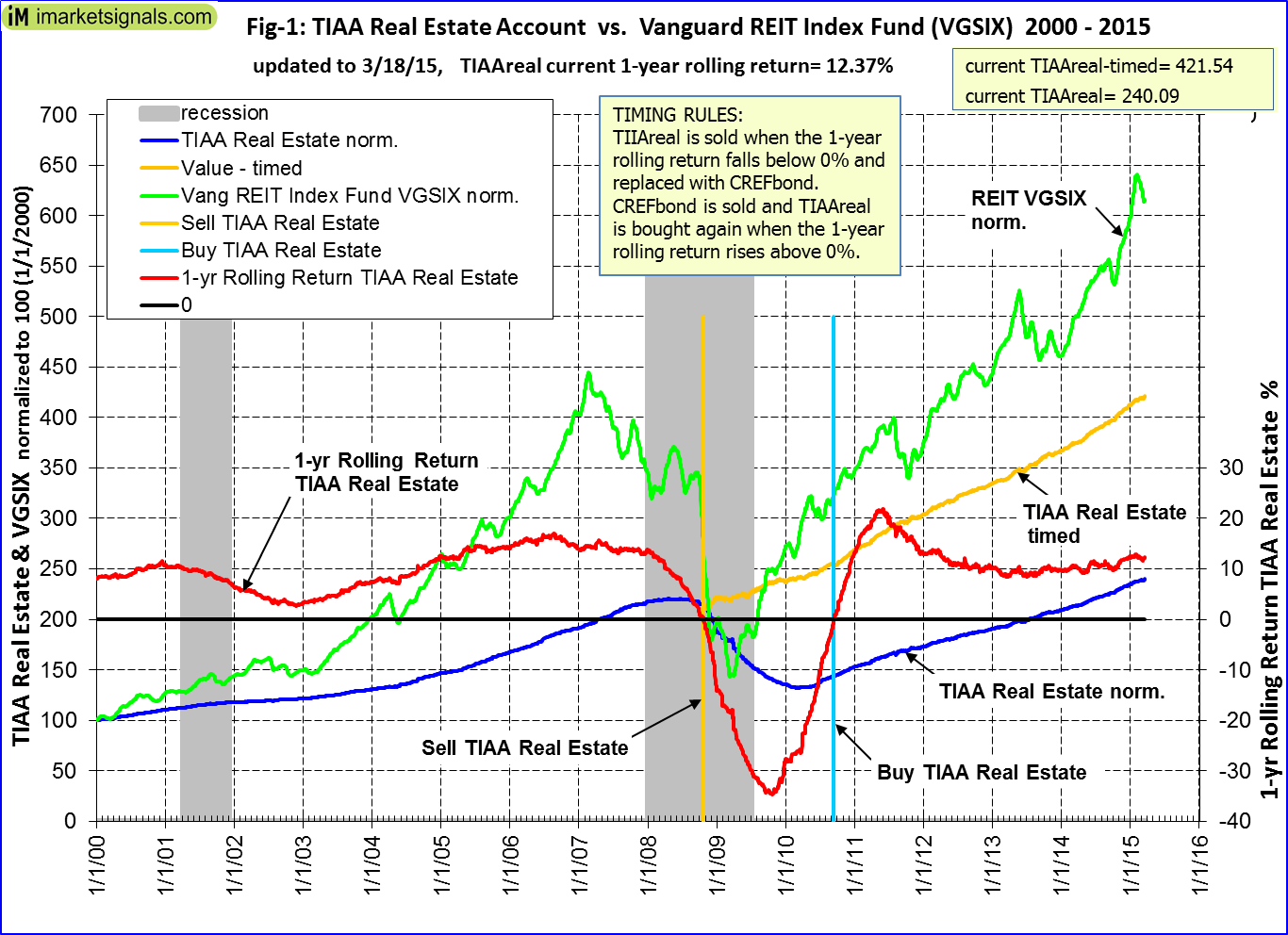 (click to enlarge)
The blue graph depicts the performance of TIAAreal normalized to 100 at the beginning of the year 2000. The yellow graph shows the performance with timing and assumes that funds were invested in the CREF Bond Market Account (QCBMRX) during the time when not invested in TIAAreal. This would have resulted for an initial $100 investment to grow to $421, whereas a static investment in TIAAreal would only be worth $240 at the end.
Annual returns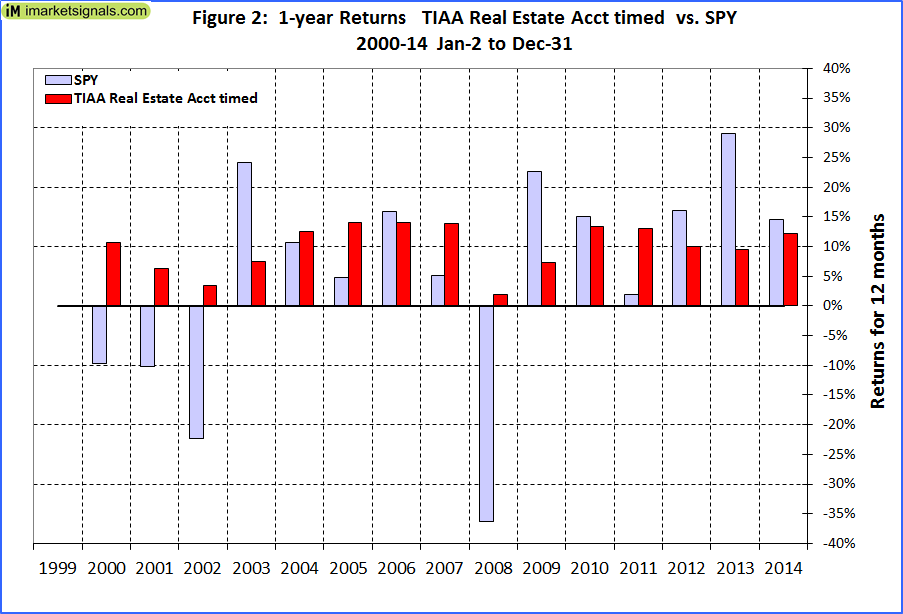 (click to enlarge)
Figure-2 shows the calendar year returns. TIAAreal-timed always would have had positive returns, even in 2008 when there were huge losses for the broader market.
Rolling 1-year returns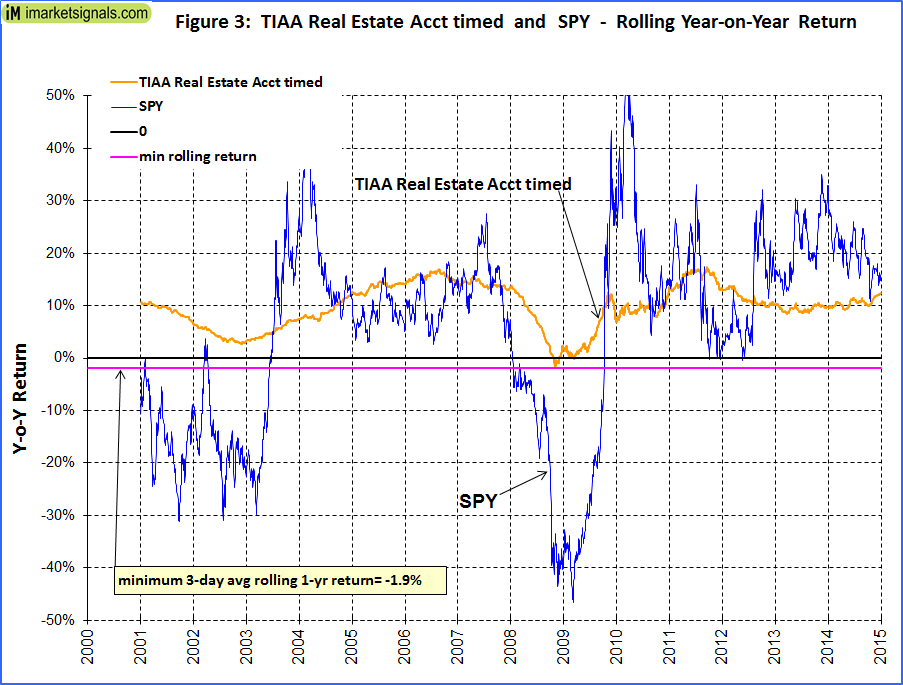 (click to enlarge)
Figure-3 shows the rolling year-on-year return. Only for a very short period at the end of 2008 would the return have been slightly negative. At the end of 2014 the rolling return was over 12% comparing favorably with that of SPY.
Distribution of monthly returns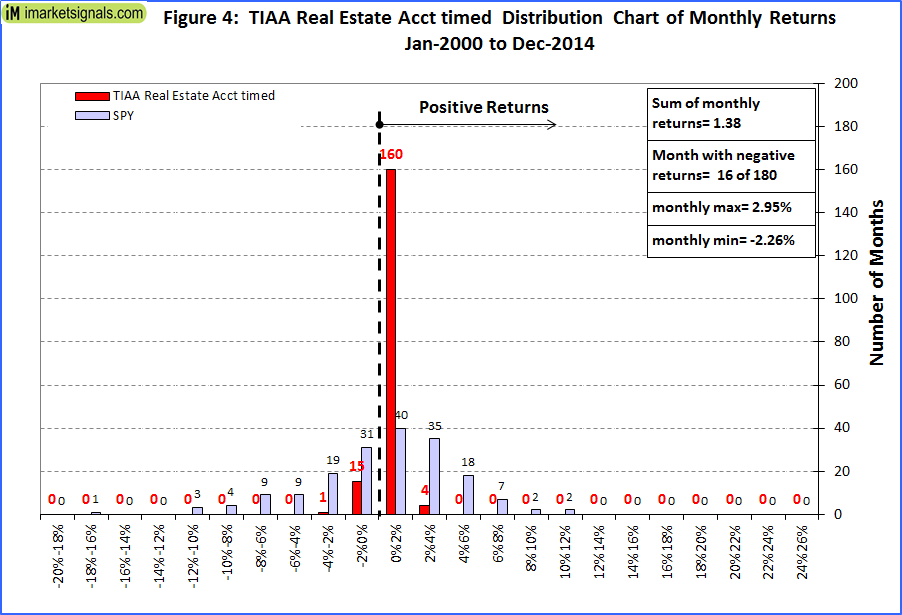 (click to enlarge)
Figure-4 shows the monthly returns. There were only 16 months during the 15 year period when the monthly return was negative.
Terminal Values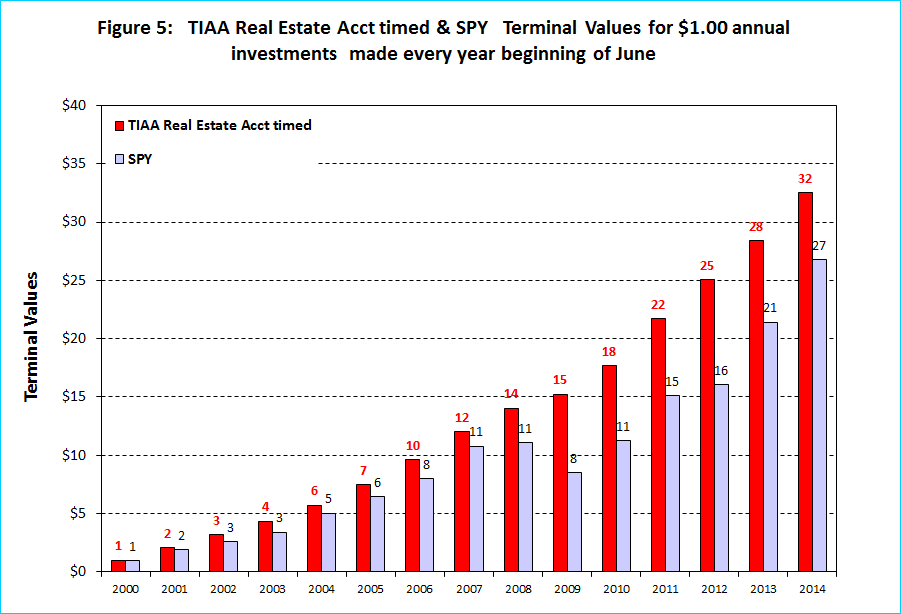 (click to enlarge)
To simulate savings over time, terminal values were calculated for annual hypothetical investments of $1. Starting with a dollar during each of the 15 years from 2000 to 2014, one would have invested a total of $15 cumulatively by the end. Summing the terminal values, this strategy would have netted this dollar-per-year investor $32 at the end. Following the same strategy but investing in SPY, one would have only $27.
Risk

(click to enlarge)
The high Sharpe and Sortino ratios for TIAAreal-timed indicate that this should be a low-risk investment.
Following TIAAreal-timed
Monthly updates of performance are posted on our website.
---
Disclosure: The author currently holds TIAA Real Estate.