The modified Coppock indicator will produce a buy signal for Gold within a few weeks. This is the result of various projections using random numbers between -$20 and +$30 and -$30 and +$20 for the weekly change of the gold price, representing upward- and downward trends for the metal's price, respectively.
In this August 2012 article an analysis showed that one could expect a Coppock buy signal possibly as early as December 2013, but not much later than March 2014. The most recent projection now shows that with high probability a buy signal will emerge by the end of March 2014, as shown in Figure 1 below, and that the gold price could approach $1,600 by the end of 2014 assuming an upward trend for the gold price.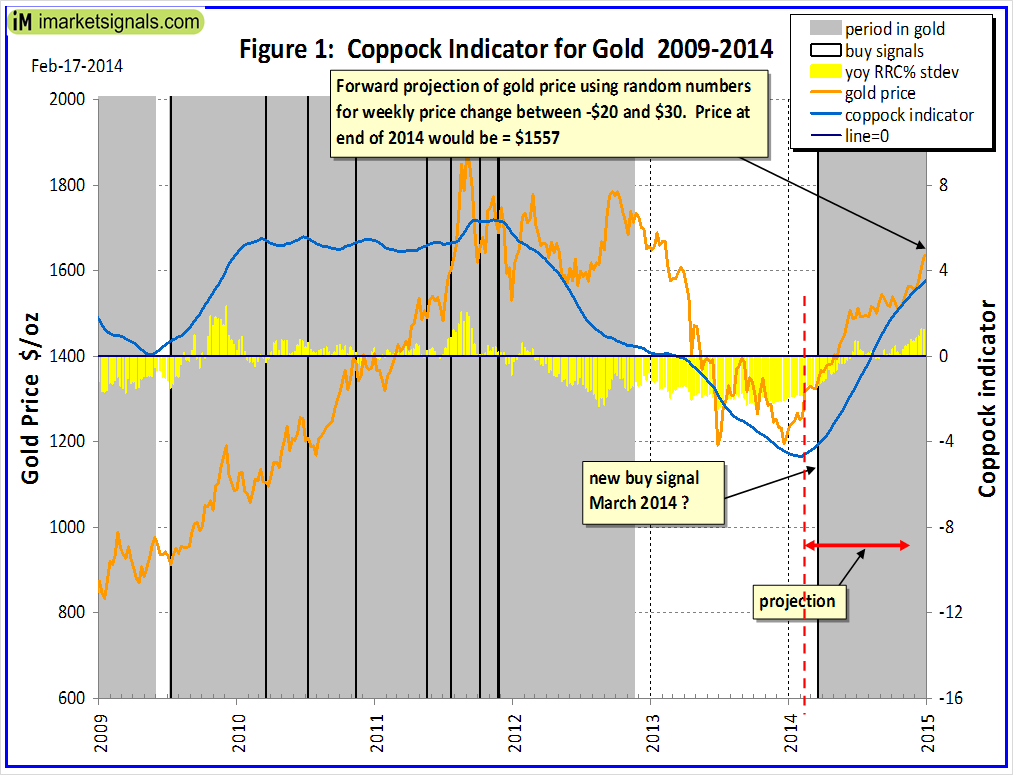 (click to enlarge)
Additionally, the iM-Best Gold Timer model has generated a buy signal at the end of December-2013 after being almost three years out of Gold.  The model uses the SPDR® Gold Shares ETF: GLD, and the economic indicators Federal Funds Rate, 10-year Treasury Note yield, and the S&P500 Estimated Earnings Yield. The benchmark is the Specialty Index SP1500 Gold, representing the gold miners in the S&P1500.  The ETF GLD has already gained about 10% since the date of the buy signal to the middle of February-2014.
Using the Portfolio123 platform the iM-Best Gold Timer  (click for more details) was backtested from Jan-2-2000, as this was the first full year when the algorithm had access to all the required economic indicators from the database of the web-based simulation platform where the backtest was performed.  The timing algorithm was partly based on my research reported in this article.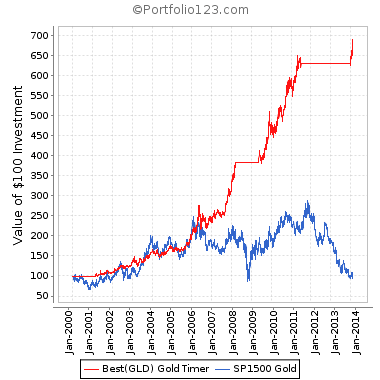 There were three buy signals:  2/20/2001, 5/11/2009 and 12/30/2013.  An interesting observation is that the three buy signals always occurred shortly after the normalized benchmark index (blue graph) bottomed near 100, as can be seen from the chart above.