Portfolios of the 12 top ranked stocks of the iShares MSCI USA Minimum Volatility ETF provided much higher 1-year returns than the ETF.
For the period 6/30/14 to 6/18/15, our Best12(USMV)Q3-Investor, a 1-year buy&hold portfolio, returned 26.0%,
The Best12(USMV)-Trader, re-balanced every 2 weeks, returned 29.3%,
iShares MSCI USA Minimum Volatility ETF USMV returned 13.3% for the same period.
Minimum volatility stocks should provide exposure to the stock market with potentially less risk, seeking to benefit from what is known as the low-volatility anomaly. Consequently, they should show reduced losses during declining markets, but should also show lower gains during rising markets. However, our backtests show that better returns than the broader market can be obtained under all market conditions by selecting 12 of the highest ranked stocks of a universe made up from minimum volatility stocks of the iShares MSCI USA Minimum Volatility ETF USMV.
To test these findings we launched the Best12(USMV)Q3-Investor and Best12(USMV)Trader on Jun-30-2014 and provided weekly reports of holdings and performance for the two portfolios on our website. The performances for almost one year are depicted in the figures below.
One notes that performance of the Investor model relative to USMV diminished from end of March 2015, whereas the Trader's performance was marginally better than USMV over this period. This could be due to the Investor still holding 10 of the original stocks from inception onwards (353 days), while the Trader's stock holdings were periodically renewed. The Investor model will be rebalanced for the first time at the end of the first week of July 2015 and should have the majority of its current holdings replaced by higher ranked stocks.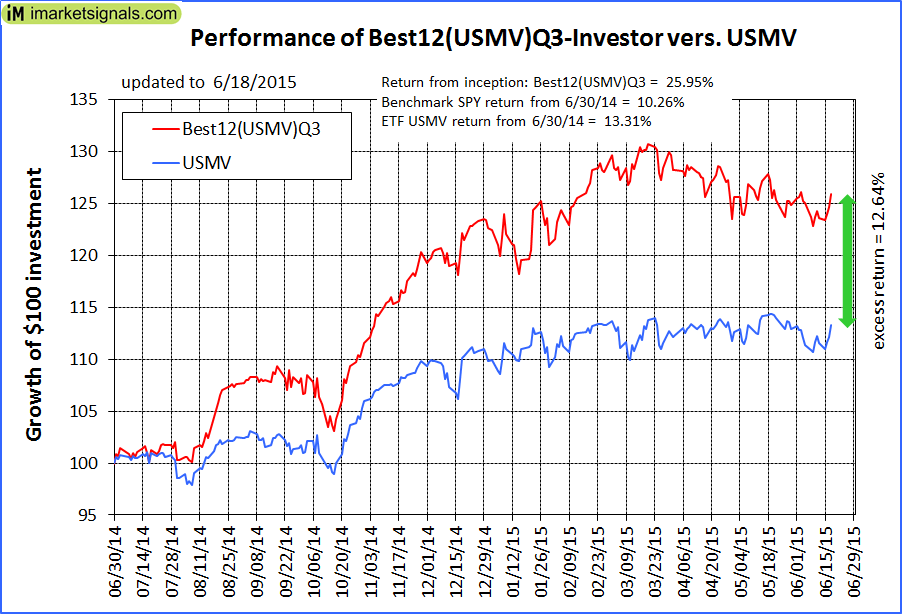 (click to enlarge)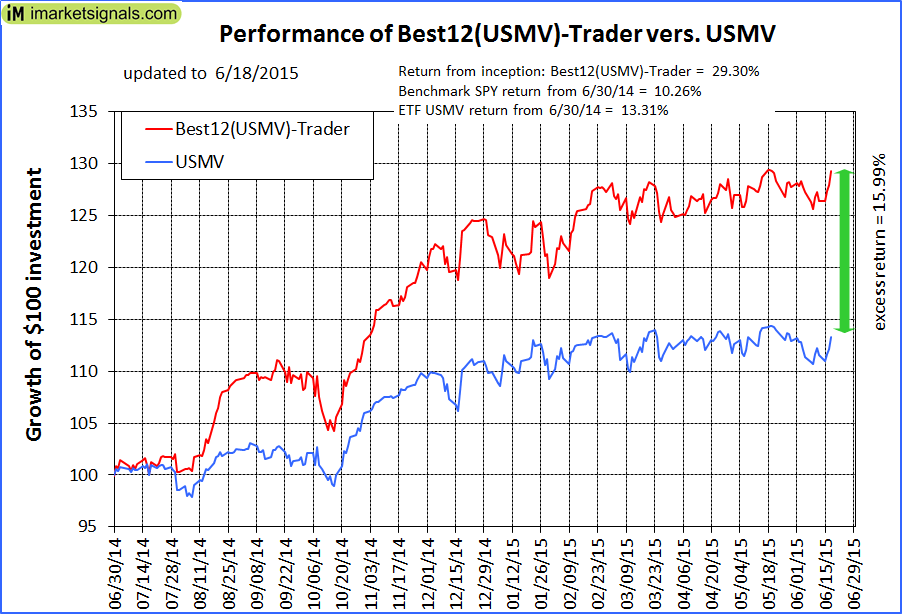 (click to enlarge)
Disclaimer: Although the performance of the two models have been considerably better than that of USMV, one should not commit capital in the expectation that strategies that worked well for one year are therefore also bound to do well in the future.