Seeking Alpha publishes a dynamic list of 250 popular tickers that haven't had recent coverage, mainly small-caps. Ranking and periodically selecting 50 of these undercovered stocks should provide good returns.
A trading strategy, backtested over the preceding three years, showed a simulated annualized return of 48% with a maximum drawdown of -18%..
Although the portfolio is relatively large, the annual turnover is only 140%.
For the analysis the recent Seeking Alpha listing of June-2019 was used. The backtest to Aug-2019 was performed on the online simulation platform Portfolio 123 with transaction costs and slippage taken into account.
The current listing of the undercovered stocks should not be tainted by survivorship bias since it is a listing of ignored stocks, not one of stocks that have necessarily performed well in the past.   It is unknown if these stocks were also undercovered over the backtest period, and as an experiment going forward we will update the stock universe for the model on a periodic basis using the Seeking Alpha's listing of undercovered stocks.
3-Year Performance Backtest
The strategy selects 50 stocks from a universe consisting of approximately 250 stocks which are undercovered on Seeking Alpha. Stocks from the sectors Real Estate, Financial, and Energy were not considered for selection.
The benchmark chosen is the Russell 3000 Index as represented by the iShares Russell 3000 ETF (IWV) because the market capitalization of the undercovered stocks ranges from Micro- to Large-Caps.
Performance over three years is shown in Figure-1. The total return and annualized return would have been 227% and 48%, respectively, with a maximum drawdown of -18%. Over the same period the benchmark produced an annualized return of 11.3% with a maximum drawdown of -20%.
Risk measurements are shown below Figure-1 and the current holdings and their allocation are in the Appendix.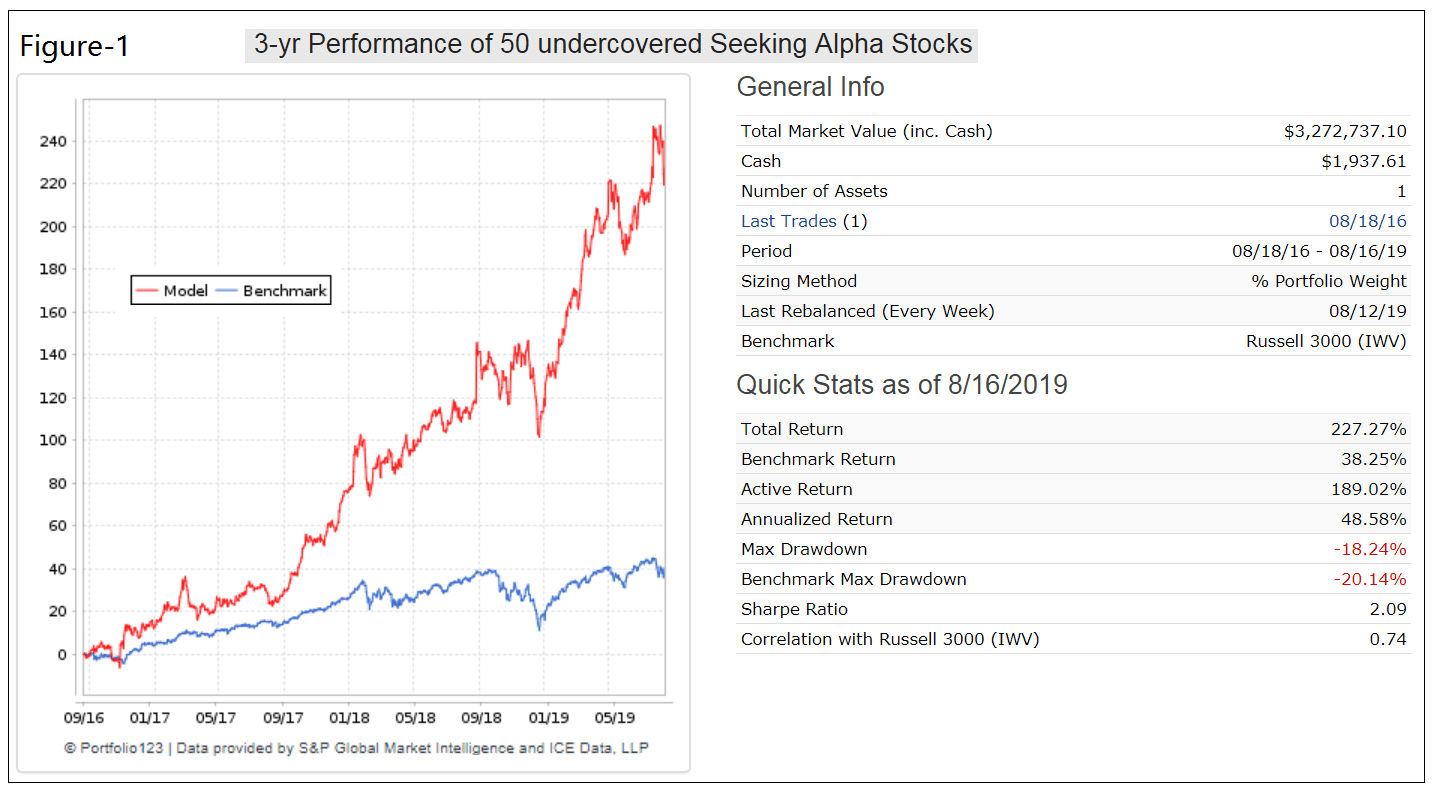 (click to enlarge)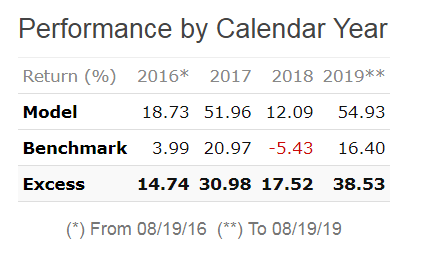 Risk Measurements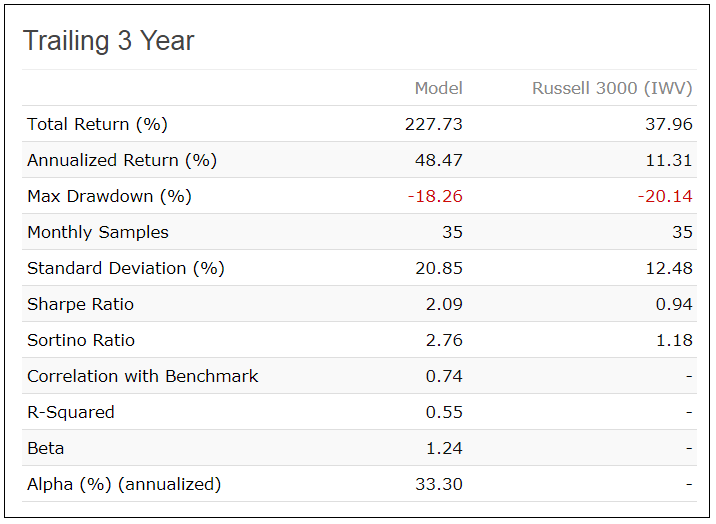 (click to enlarge)
Conclusion
From the analysis it would appear that investing in the undercovered Seeking Alpha stocks according to a suitable trading strategy should produce good returns.
Periodic updates of this model will be posted on our website, imarketsignals.com and/or on Seeking Alpha.
Appendix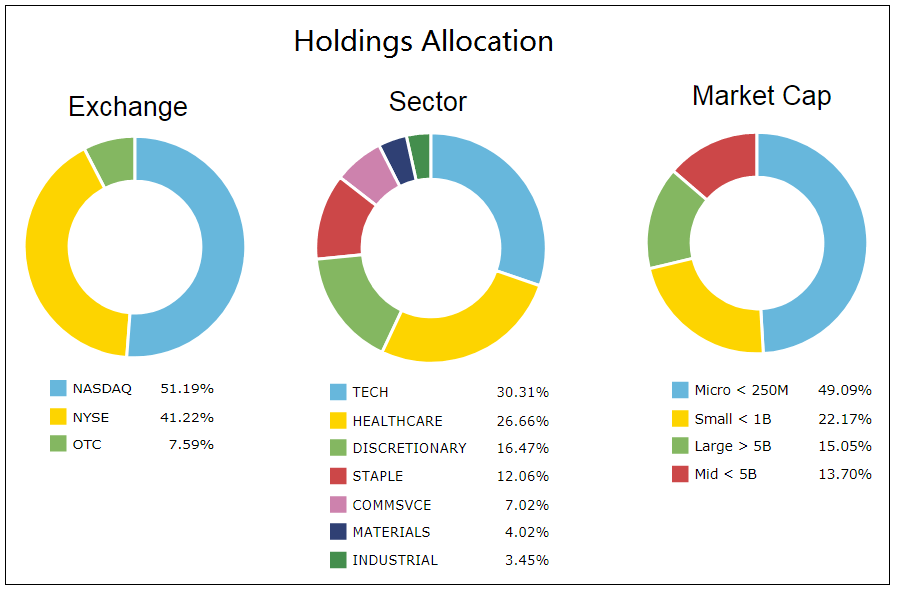 (click to enlarge)
Model's current holdings of undercovered stocks

Ticker
Name
Weight (%)
1
A
Agilent Technologies Inc
0.61
2
ABEV
Ambev SA
2.19
3
AFMD
Affimed NV
4.02
4
AKBA
Akebia Therapeutics Inc
2.43
5
ALXN
Alexion Pharmaceuticals Inc
0.51
6
AMNF
Armanino Foods of Distinction Inc
5.34
7
APPS
Digital Turbine Inc
3.26
8
AVID
Avid Technology Inc.
1.65
9
BAX
Baxter International Inc
0.69
10
BITA
Bitauto Holdings Ltd
1.91
11
BMRN
Biomarin Pharmaceutical Inc
0.48
12
BT
BT Group PLC
0.67
13
CE
Celanese Corp
0.77
14
CODA
Coda Octopus Group Inc
5.01
15
CROX
Crocs Inc
1.33
16
CVSI
CV Sciences Inc
2.24
17
CYH
Community Health Systems Inc
3.59
18
DGX
Quest Diagnostics Inc
1.19
19
DRRX
Durect Corp
6.87
20
GRVY
GRAVITY Co Ltd
2.5
21
HLT
Hilton Worldwide Holdings Inc
0.51
22
HUN
Huntsman Corp
1.01
23
INGR
Ingredion Inc
0.98
24
IQV
Iqvia Holdings Inc
1.19
25
JAZZ
Jazz Pharmaceuticals Plc
0.59
26
KODK
Eastman Kodak Co
5.1
27
LDOS
Leidos Holdings Inc
0.63
28
LIN
Linde Plc
0.46
29
NCLH
Norwegian Cruise Line Holdings Ltd
0.92
30
NCR
NCR Corp
0.69
31
NUS
Nu Skin Enterprises Inc.
1.29
32
OPK
Opko Health Inc
1.26
33
QRTEA
Qurate Retail Inc
0.59
34
RFP
Resolute Forest Products Inc
1.78
35
RUBI
Rubicon Project Inc (The)
4.77
36
SCOR
comScore Inc
1.94
37
SGH
SMART Global Holdings Inc
1.8
38
SHSP
SharpSpring Inc
7.09
39
SSYS
Stratasys Ltd
0.95
40
SUP
Superior Industries International Inc.
7.6
41
SYNA
Synaptics Inc
1.66
42
TEL
TE Connectivity Ltd
0.5
43
TENB
Tenable Holdings Inc
1.19
44
TMO
Thermo Fisher Scientific Inc
0.65
45
VCYT
Veracyte Inc
1.82
46
VICR
Vicor Corp.
1.13
47
VRNT
Verint Systems Inc
0.77
48
WPRT
Westport Fuel Systems Inc
2.32
49
YUM
YUM! Brands Inc.
0.74
50
ZTS
Zoetis Inc
0.74