A warning of a major stock market decline from the death cross of the Trailing Twelve Months Income Available to Common Stocks (TTMIACS) of the S&P500.
The TTMIACS of the S&P500 has historically provided a good indication of market tops.
TTMIACS has been declining since Feb-2015 when its 10-week moving average crossed its 40-week moving average to the downside.
Exiting the stock market according to this indicator would have avoided major losses in 2001 and 2008.
The Trailing Twelve Months Income Available to Common Stocks (TTMIACS) is defined as income before extraordinary items and discontinued operations less preferred dividends.
Over the backtest period from 1999 to 2015 there have only been three occurrences when the 10-week moving average TTMIACS moved convincingly below its 40-week moving average.  Stocks cannot continue to advance when the income to common stockholders declines. After the signals in May-2001 and Dec-2007 the market lost 35% and 50%, respectively, and these signals were near the beginning of the respective NBER recessions.
The third signal occurred end of Feb-2015. According to this indicator a major decline of the stock market should follow.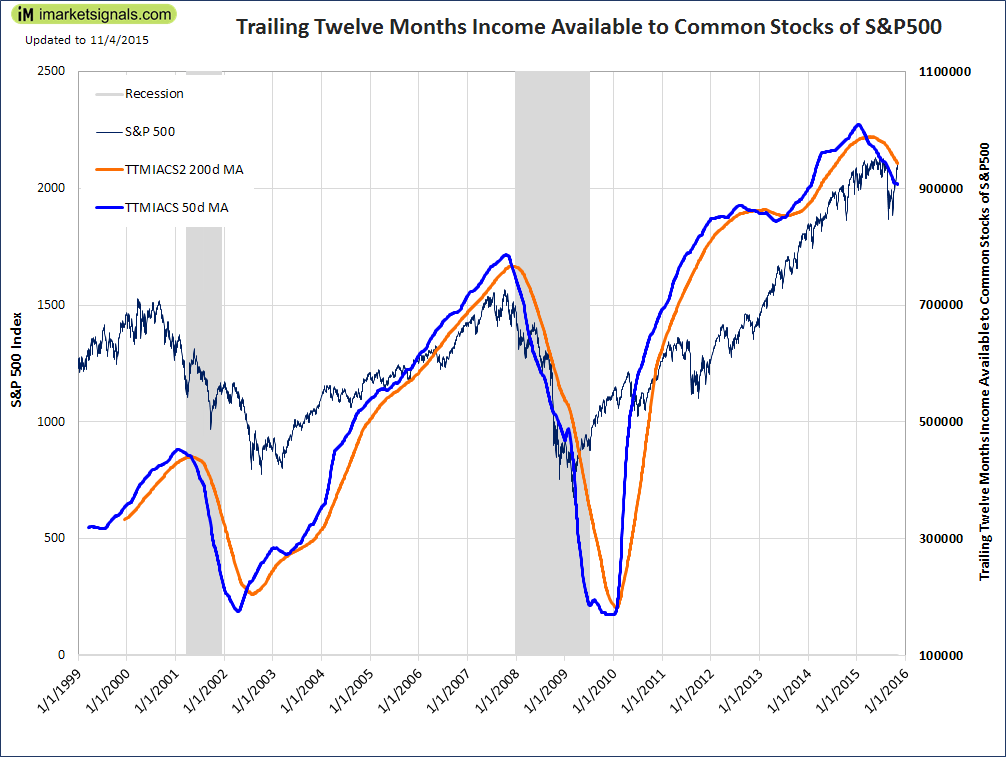 (click to enlarge)
Additionally there was a weak crossing in November 2012. However, the slope in both the 10 and 40-week moving averages was not as steep as at the beginning of the last two recession, and as observed since the last signal.