This model is intended to be used hedging long market exposure, not as a stand-alone model.  It periodically holds a maximum of 5 short positions of large-cap stocks. The model was backtested from Jan-2-2000 to May-4-2014 on the Portfolio123 simulation platform as a stand-alone-model and would have provided an annualized average return of 26.5% with a max drawdown of -22.7% over this period.
Stock Universe
 Stocks are selected from the Portfolio 123 Large-Cap U.S. stock universe, currently consisting of 535 stocks.
Ranking System
Stocks are ranked according to 7 indicator groups each having a number of parameters as shown in brackets, for a relatively low total of 13 parameters:
Technical (4)
Valuation (3)
Efficiency (1)
Financial Strength (1)
Short Interest (1)
Earnings Momentum (2)
Price Momentum (1)
In the chart below the stocks of the universe are grouped in 25 "buckets" according to performance based on the ranking system only.  It is evident that stocks ranked less then 4 (second blue bucket from the left) provided the highest positive returns for a short only model.  This rank criterion was therefore adopted in the trading rules.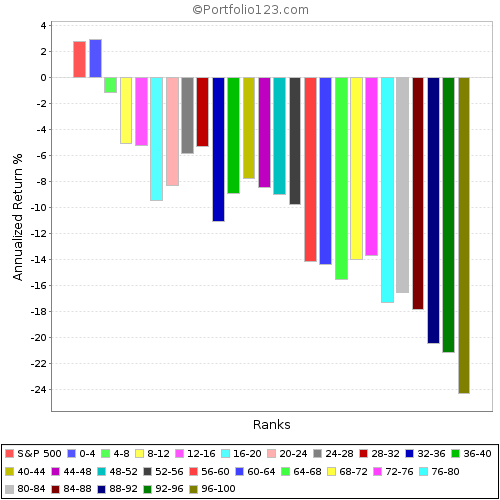 Rebalancing and Trading Rules
The model is rebalanced every weekend and signals are provided for the first trading day of the week.  Trades were assumed to occur at the closing price of the trading day.  Transaction costs of $1.00 commission, slippage of 0.1% and margin carry cost of 2.0% p.a. were taken into account in the simulation.
For a stock to be sold short all the following parameters and rules were simultaneously applied:
Next year's projected P/E Ratio.
Rank < 4.
Rank change over the last 2 weeks.
Price > $3.00.
Average daily total amount traded (price x volume): 10-week average> $50-million, 2-week average> $35-million and 2-day average> $30-million.
Market-cap must be in the upper 80% of the universe. (This rule eliminates stocks which currently have a market-cap less than $8,500-million.)
Stocks that were covered within the last 35 days are not considered for selection.
The rules to cover short positions are:
Either the number of days since the position was first opened must be greater or equal 45,
or it is based on  moving average cross-overs of SPY, considering both long period and short period moving average cross-over systems.
Trading
The model will select a maximum of 5 stocks to be sold short, allocating 20% of the available funds to each of them.  The simulation showed that there were many periods when the model had less than 5 positions or had no short positions at all.  For example, if the model had only 3 short positions, than 60% of the funds would be allocated to the shorts and 40% would remain in cash.
There were 722 realized trades (round-trips), of which 423 were winners and 299 were losers, providing an average return of 2.70% per realized trade.  The average holding period was only about 9 days.  This model trades almost every week.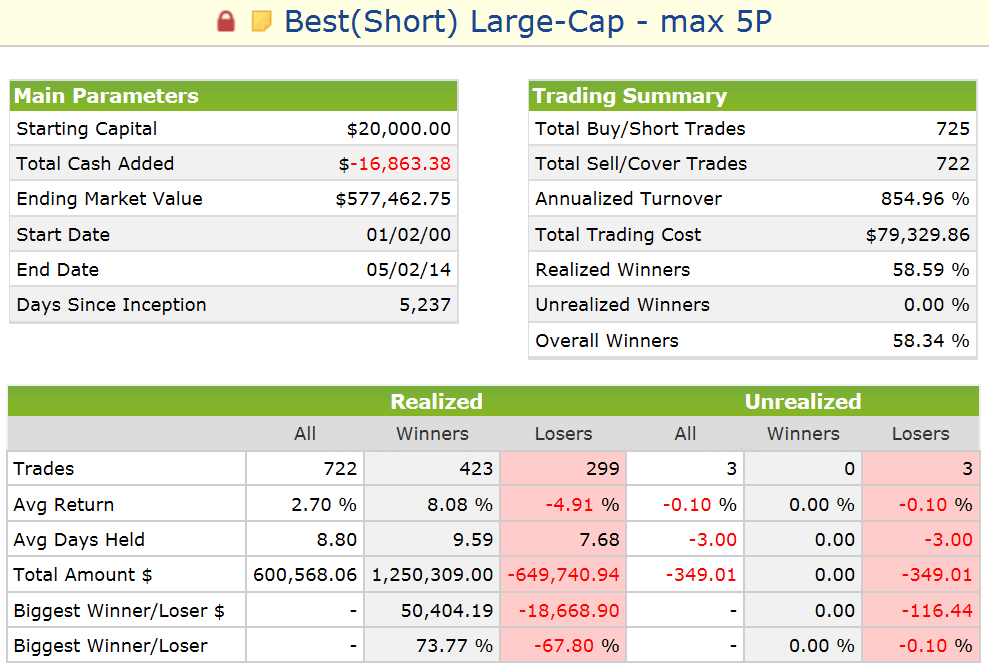 Liquidity
This model only trades large cap stocks currently having a market-cap greater than $8,500-million and which also have a 2-day and 10-week minimum average daily total amount traded (price x volume) of more than $30-million and $50-million, respectively.  Assuming one can trade 10% of  the smaller amount without unduly moving the stock price, then this model could support a total short portfolio value of 10% x $30-million x 5 stocks = $15-million.
If this model was traded in a margin account having a value of 50% of the long portfolio, then one could hedge a $30-million long portfolio with it.  Obviously this amount is insufficient to hedge very large long portfolios, but appears to be sufficiently large to accommodate many individual traders with smaller portfolios.
Performance
Simulated performance to end of April 2014 is shown in the screen-shot below and performance to end of December 2013 is in Figures 1, 2 and 3. Market Value and Cash shown is for an initial investment of $20,000.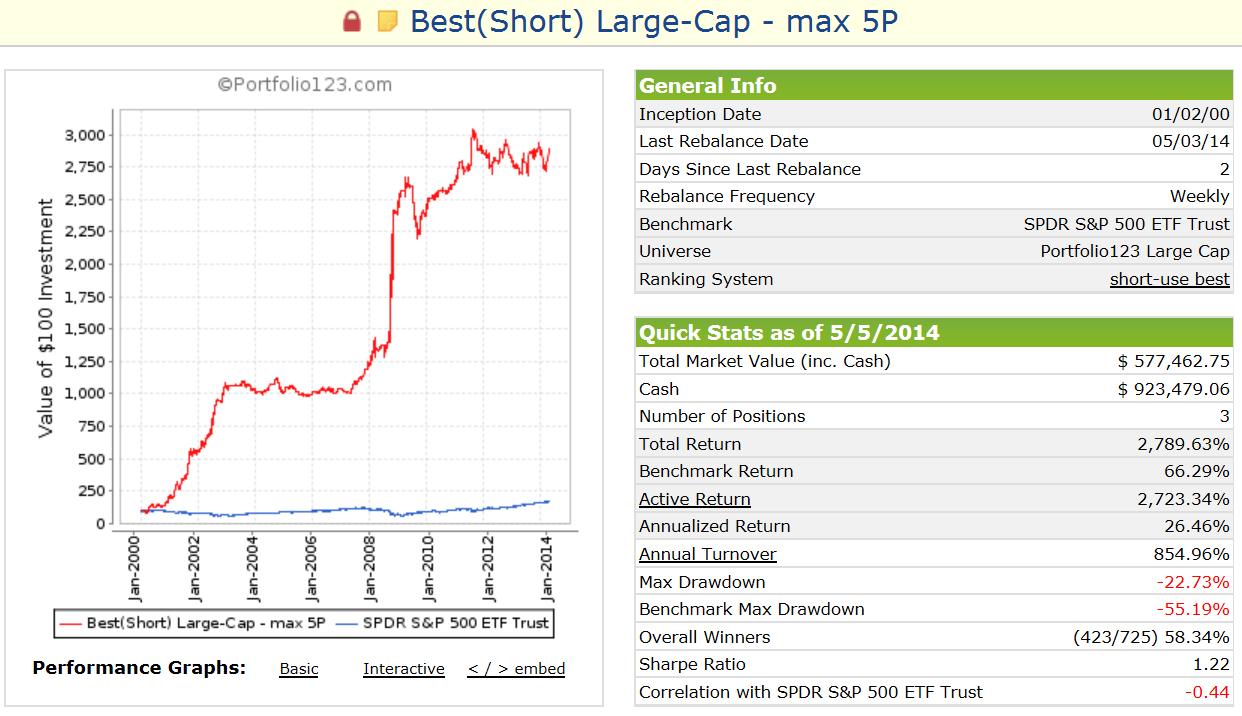 (click to enlarge)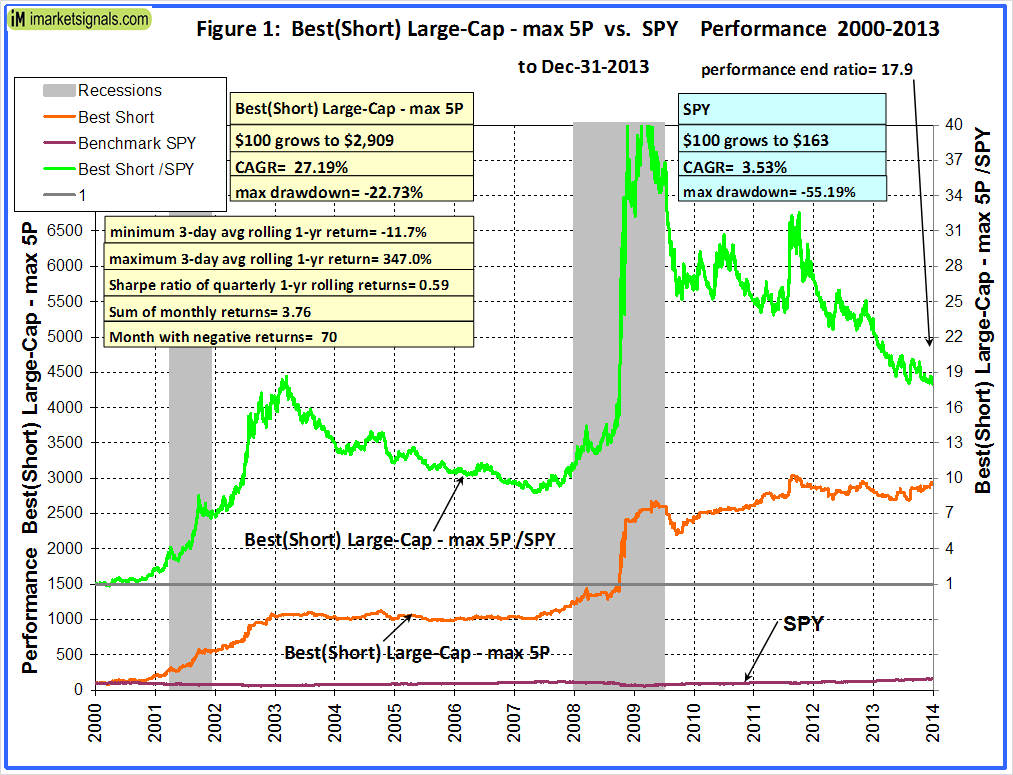 (click to enlarge)
In Figure 1 the green ratio graph indicates performance relative to SPY, the ETF tracking the S&P500.  One can see that the model begins gaining on SPY about nine months before recession starts.  During in-between-recession-periods the model loses relative to SPY.  However, performance still had a weak upward trend from 2010 to 2013 and was flat from 2003 to 2006.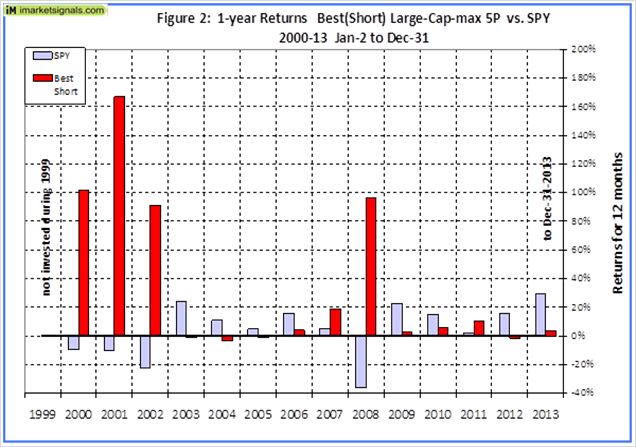 Figure 2 shows the 1-year returns from the beginning of January to end of December over the last 14 years.  One can see that the model out-performed SPY only during 6 of those years. The best performance was during years when SPY had negative returns.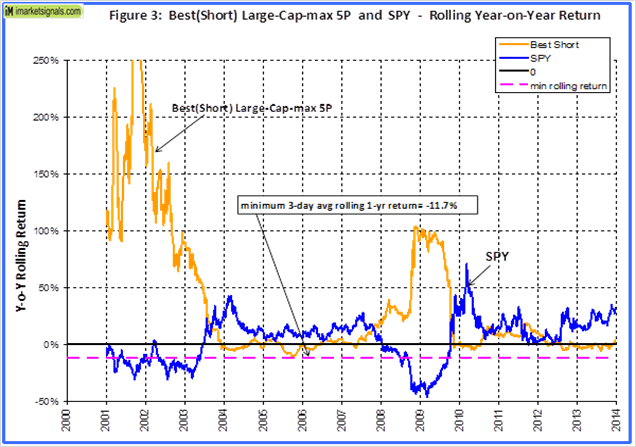 Figure 3 shows the rolling 1-year returns starting each day from 1999 to 2012. The minimum return over one year was -11.7%.  One can see that the rolling return for the model were almost a mirror image of the rolling returns of SPY.  Thus this model could be useful to hedge long market exposure.
Risk measurements
Risk measurements are in the table below, shown since inception and for the last 3 years.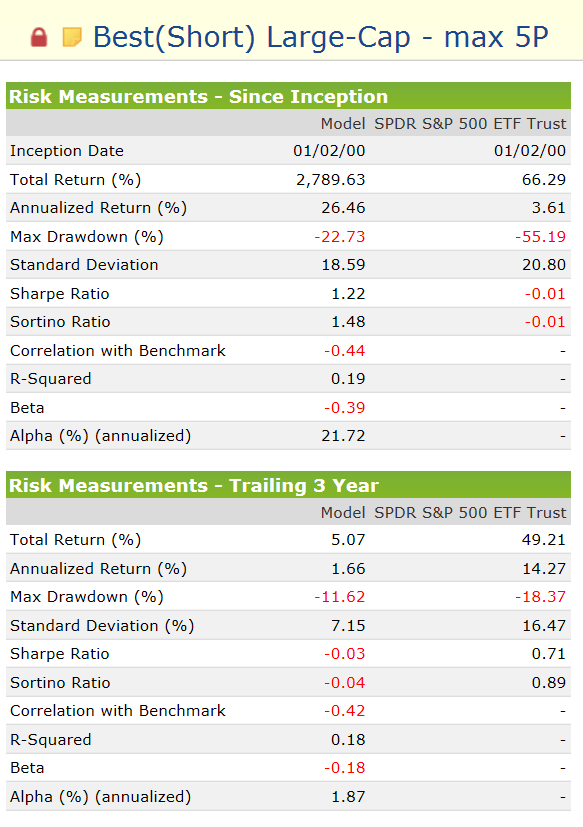 Appendix
Performance from January 2009
The screenshot below shows performance from 1-2-2009 to 5-5-2014. Market Value and Cash shown is for an initial investment of $20,000.
During this bull market period SPY gained 126%. It is difficult for short portfolios to gain during up-market periods. Nevertheless, Best(Short) still shows a gain of 17.6% equivalent to an annualized average return of 3.1%.
Our weekly updates will be based on this starting date, but with an initial investment of $100,000.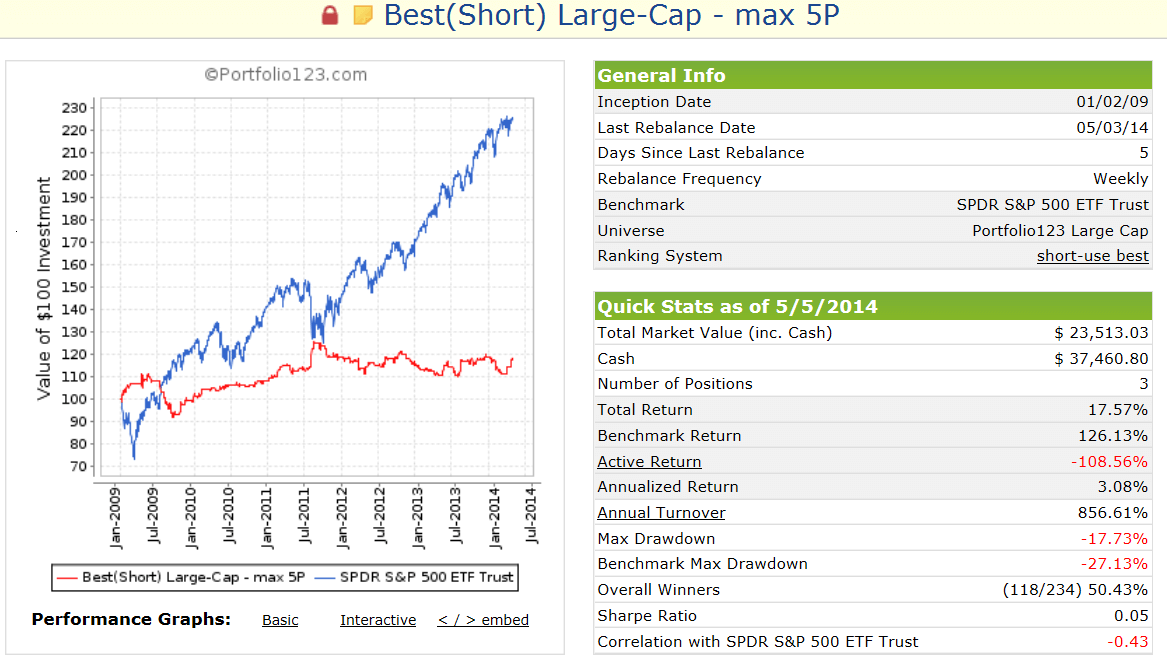 (click to enlarge)
---
Disclaimer
Please be aware that all results shown are from a simulation and not from actual trading. They are presented here for information purposes only and shall not be construed as advice to invest in any assets or purchase any subscriptions mentioned, described or advertised. Out-of-sample performance may be much different. Backtesting results must be interpreted in light of differences between simulated performance and actual trading, differences between subscriber performance and live out-of-sample model performance, and an understanding that past performance is no guarantee of future results.
All investors should make investment choices based upon their own analysis of the asset, its expected returns and risks, or consult a financial adviser. The designers of this model are not registered investment advisers. GEOV LLC (A Connecticut limited liability company) and its agents disclaim any liability for losses incurred while acting upon information provided by the Company or its agents.